Last Sunday, my second daughter, Eliza, turned three. If you don't already know this, it's because you don't live in my town. She told the whole town. And whoever may have missed the news undoubtedly heard it from her older sister, Penny, who was also shouting it from the rooftops. My three-year-old basked in the joy of her birthday all weekend. She listed off the presents she received at every chance she got, and her older sister did the same. One's joy was the other's as they soaked in the glory of this great celebration. As I watched them, it dawned on me that it is hard for adults to do this. It is hard for us to embrace joy, share joy, and celebrate with others. Joy takes courage. 
It is so much easier to focus on all that goes wrong in our lives and the lives of other women. All too often, when women get together, it isn't long before the conversation turns negative and stays negative. Someone starts to share about her struggles and before long, everyone has jumped in. It has become popular to label those conversations as "real" or "raw," and while they can be genuine, they easily devolve into unnecessary complaining. 
Please don't misread this. We should not float along as if nothing ever goes wrong or hide a bad day by pushing our feelings under the rug. Life can be messy and difficult. We need to be able to share honestly with trusted friends for comfort and advice.
That being said, it is much more difficult and risky to focus on and share about the good things that happen to us. There is more at stake. For starters, focusing on the bad is normal. We expect things to go wrong and so when they go well, we don't know how to handle it. Vulnerability researcher Dr. Brené Brown claims that, "Joy is the most vulnerable emotion we experience."[1] Most of us have not been trained to live with a joyful disposition. Even if we find ourselves experiencing it, we dare not share it with others. Being positive, if we are honest, can be downright annoying. No one wants to be a Pollyanna in a Kill Bill world. 
Sharing joy is not only risky because we might annoy someone. We also risk the possibility that we will magnify another woman's pain. If we share that we received a raise at work, will we hurt the woman who just got laid off? If we share that we are connecting with Jesus in our prayer lives, will another woman feel like she is not enough because her prayer life is dry? What if our kids are behaving, and we are genuinely enjoying our time with them? Will this news twist a knife into the heart of the mother who is struggling to have a relationship with her kids? We are keenly aware that it may seem like we are bragging, and we are all too familiar with the jealousy we have felt at the good fortune of another. With these things in mind, we keep our joy to ourselves or downplay it when we are in a group of women. This is a mistake. 
Joy is not a finite resource. God created each of us to share in His infinite joy and to celebrate when good things happen to others. For example, Elizabeth was joyful at Mary's news that she was chosen to be the Mother of God. She was not jealous, but instead she celebrated with Mary as they glorified God together. Mary, in turn, celebrated with her the news that she was pregnant with John the Baptist against all odds. There is plenty of goodness to go around. 
So where do we start? How do we shift our focus and become courageous? How do we embrace joy in a cynical world? We start by sitting with the God who is joy. We start by allowing Him to renew our minds so that we can recognize His goodness, share His goodness, and celebrate when He reveals His goodness in the life of a friend. 
In the new Walking with Purpose devotional, Rest: 31 Days of Peace, Lisa Brenninkmeyer shares how we are to renew our minds. "We saturate our minds with what is true—and that's found in the Bible. This is God's love letter to us. He is not silent. He speaks to us through His Word."[2] When we renew our minds by sitting with Him daily in His Word, He gives us the rest we need to discover the joy that He has reserved for us. He blesses us with a spirit of gratitude that enables us to be joyful for others. 
Romans 12:15 implores us to "rejoice with those who rejoice; weep with those who weep." There has been so much weeping this year. At every level of society, there is tragedy. Every morning we can wake up and be overtaken by the nastiest news cycle of our lifetime. We can look in the mirror and remember just how hard the last year has been. For honesty's sake, we may need to do this, but where does it lead? Does it lead us into the spiral of despair, or does it lead us to our Savior who endured the very cross for the sake of the JOY set before Him (Hebrews 12:2)? Jesus did not wallow in His suffering for the sake of seeming "real" or "raw." He endured it, honestly, and held on to the joy, the never-ending joy, that awaited Him. He offers the same to us. He celebrates His goodness with us. We need not be afraid to feel it. We need not be afraid to share it. What is going well in your life? Are you recognizing it with humble gratitude? With whom can you share it? How can you rejoice in the joy of another? 
This, dear sister, is the attitude shift that could change the tone of your year and the years to come. Take courage. Take the risk, and reveal your joy.
[1] "Dr. Brené Brown on Joy: It's Terrifying," SuperSoul Sunday, Oprah Winfrey Network, (YouTube Video, March 17, 2013), 5:58.
[2] Lisa Brenninkmeyer, Rest: 31 Days of Peace, (Walking with Purpose, 2020), p 67.

"Therefore be imitators of God, as beloved children. And walk in love, as Christ loved us and gave himself up for us." Ephesians 5:1
Before I leave the house, my husband always asks if I have my wallet. I forget it all the time, and he says it's good to have your ID with you so you can identify yourself. He's right—when I don't have my wallet, I'm lost, in a sense. If someone asked, I couldn't take proof out of my pocket and point to who I am.
The definition of beloved is "to be dearly loved" or "pleased with." From the moment we were merely a thought in the mind of God, each of us were marked "beloved" as the very core of our identity. It's not simply something about us—it's our identity. There's nothing we've done to earn it. There's nothing we've done or that's been done to us that can take it away. Beloved is who we are. And yet, how many of us live our lives out of that truth? 
Five years ago, I was introduced to a book called Life of the Beloved by Henri Nouwen that changed my life. The book revolves around the idea that every day we're surrounded by voices. The voices of society, negativity, lies we've believed, our peers, etc. What would it look like if we could silence the noise and listen to the voice, that at the center of our being, calls us "beloved"? While reading the book, I realized that instead of owning and living out of my belovedness, I was only owning my mistakes. My journey is far from over, but I work every day to own the truth of who I am.
The problem is, we can be our own worst enemy. Negative self-talk has plagued humanity since the beginning. Too often, all we see in our reflection are the things we're not, rather than embracing all that we are. Anything can set it off. A bad hair day, how you reacted to a situation at work or school, accidentally snapping at your spouse or child, an interaction with a friend. We own our negative qualities far too quickly, and we allow those thoughts to control our actions and our beliefs about ourselves. Before we know it, we're beating ourselves up without putting up a fight. If a friend said some of the things to us that we say to ourselves, she would no longer be our friend. And yet we allow our internal chatterbox to persist, often without even realizing it. 
Our identity isn't based on our accomplishments or failings, what people think about us, or how we view ourselves in the mirror. Our identity is that we are the beloved children of a relentless Father who loves us unconditionally. 
I'm reminded of a stained-glass window in a chapel in which I used to spend a lot of time. The image was of Jesus holding a sheep close to his chest. This is the goal of a Christian. To be so close to the heart of the Shepherd that you hear His heartbeat and can conform your life to that rhythm. When you do this, you'll go into each day knowing you are loved, not looking for ways to earn it. This is freedom.
I wrote the song "Belovedness" first and foremost because I needed to sing it. I needed to remind myself of these truths. When you sing truth over yourself, it releases something internally. My prayer for you when you listen to it, and what I hope you'll pray for me, is that we see ourselves and others the way the Lord sees us. Beloved isn't a badge to earn, a club to join, or a gift to withhold from others. It's our identity, it's our name, and it's the strength we need for the journey.
You are beloved. Period. Full stop. There is nothing you've done, nothing that's been done to you, nothing that's been said to you, no lie you've believed, no mistake you've made, no sin you've committed, no past or future thing that can take away your identity as a beloved child of God. It's time to silence the chatterbox and allow the truth to grow. It's time to own our belovedness. 
Belovedness
You've owned your fear and all your self-loathing
You've owned the voices inside of your head
You've owned the shame and reproach of your failure
It's time to own your belovedness
You've owned your past and how it's defined you
You've owned everything everybody else says
It's time to hear what your father has spoken
It's time to own your belovedness
He says, "You're mine, I smiled when I made you
I find you beautiful in every way
My love for you is fierce and unending
I'll come to find you, whatever it takes
My beloved"
Listen to Sarah's song or watch the video. You can also follow her on Instagram and Facebook.

No matter what is going on in our lives, we all want what Jesus offers in Matthew 11:28: "Come to me, all who labor and are heavy laden, and I will give you rest." But how often do we read those words and think they are beautiful but hard to experience? Does this type of rest seem intangible? The seeming disconnect between the truths of our faith and our everyday lives can leave us feeling bewildered and discouraged. 
Henry Drummond, a Scottish evangelist from the 1800s, suggested that while many people don't regret their religion, they are perhaps disappointed by it. He went on to write, "Men sigh for the wings of a dove, that they may fly away and be at rest. But flying away will not help us…We aspire to the top to look for rest; it lies at the bottom. Water rests only when it gets to the lowest place. So do men. Hence, be lowly."[1]
There is a lot of wisdom in Drummond's words. First of all, yes, we all find the idea of escape very appealing. Man always has. Drummond is drawing from Psalm 55:6, penned by David, "O that I had wings like a dove! I would fly away and be at rest." While few of us "sigh for the wings of a dove," we do seek to escape through excessive online shopping, another glass of wine, binge-watching shows, and other activities that take the edge off. We think they will leave us feeling rested, but we're rarely satisfied by them. Why does escapism not help us? Because the solution isn't somewhere "out there;" it's found in the interior life. It's located in the soul. This is where God meets us, in the present moment, and offers us rest.
Drummond says that rest isn't located at the top, but lies at the bottom. If we think that hitting a certain goal or reaching a level of achievement will finally give us permission to rest, we'll be sorely disappointed. Just when we think we've reached "the top," we're surprised to find that there's another whole level to go. So what's going on at the bottom? Is that where we go when we just give up and decide to stop trying? What does Drummond mean by getting to the lowest place and being lowly?
I believe he's describing the virtue of humility. Humility isn't thinking that you're worth less or putting yourself down. It's seeing yourself as God sees you. Changing the way you see yourself, seeing yourself through the eyes of God, doesn't always come easy. For some of us, we think our past mistakes cause God to be disappointed in us. We feel that if we could just develop better coping mechanisms, get rid of our selfishness, and get our act together, He'd love us. But in the meantime, we figure we fall short of what God requires. We wonder how He could possibly love us. 
If that's where you are at, I wrote my latest devotional, Rest: 31 Days of Peace, for you.
It's for those who have heard Bible verses or messages about God's tenderness and whispered to themselves, "That may be true for other people, but not for me." It's for those whose impression of God is of someone who is indifferent, impotent, or disapproving. If you know with your head that Jesus loves you, but it doesn't feel like it in your heart, this book is for you.
I wrote this devotional for those of us whose hearts have been hurt, who are experiencing weariness overload, who long to feel treasured but find it hurts too much to hope. It's for those of us whose inner voice is unkind and who fall asleep at night while a litany of failures runs through our minds. It's for those who have called out for God and found Him to be silent.
The Bible is full of assurances of God's love for His people. But I know that believing those verses in theory and feeling that they are true for you personally are two different things. What I am hoping to do through this little book is close that gap. 
So I am inviting you on a journey of the soul. I know that might feel scary or like a waste of time. But what if there is more than what you are currently experiencing? What if it is possible to come to a place of inner peace where you know who you are, and know beyond a doubt that you are seen, known, respected, and loved? 
Going to the lowly place means bowing your head for God's blessing and outpouring of grace. It's accepting that you are loved beyond measure and longed for by your Savior. It's seeing yourself through His eyes.
It's my prayer that the message of Rest will be a balm to the heart during a time when we all desperately need hope, peace, and a good dose of kindness. Order Rest: 31 Days of Peace for yourself and anyone with a hurting heart. 
May His perfect love drive your fear away,
Lisa
[1] Henry Drummond, Pax Vobiscum (Palala Press, 2015), 30.

I remember the moment like it was yesterday. The year was 1991. I was sporting my fabulous color block blazer from Express, paired with black stirrup leggings, and authentic cowboy boots. Can you say fashionista? I was seated on the couch across from my therapist. I don't recall the story I was sharing, but apparently, it wasn't a happy one (I was in therapy after all), because when I finished she looked at me and said, "You say the saddest things with the biggest smile." And then she smiled. I took that as a compliment. 
You see, as a Catholic, humor is a very serious thing to me. As it says in the amazing book Victorious Secret, "there is nothing more tragic than a humorless Catholic," and I have to agree with the author. Of course, I am the author, so disagreeing would be weird. But come on. Jesus was funny. Sure, I know, He suffered a lot. A real lot. But don't reduce Him to only tears. The man was good looking and He laughed, and you know the ladies loved Him. A camel fitting through the eye of a needle? That was funny stuff back then! Like, serious stand-up material. And don't get me started on the kind of partier He was. After all, He turned water into good wine, not the cheap box kind. He told stories and parables and was the original Twitter with His classic one-line zingers, usually directed at the Pharisees, who I will bet you any amount of money were not funny.
I don't know why, but I have always seen the funny in all circumstances ever since I was small. The awful singer at my grandmother's funeral? Funny. The actual dumpster fire we drove by on our way to driving a child in crisis to the hospital? Come on now. Funny. That one time I stayed so long after Mass in such deep personal prayer that I had no idea a funeral had begun, until I opened my eyes and saw the coffin next to me? SUPER funny. (For the record, out of respect, I stayed for the entire funeral. I am certain the talk amongst family and friends at the reception was, "Who the heck was the girl wearing jeans?" Trust me: had I known I was attending a funeral, I would have dressed better. I also would have packed tissues, because it didn't matter that I had no idea who we were burying, singing Be Not Afraid gets me every time.)
Some think that finding humor in suffering is inappropriate. And I kind of get that. After the tragedy at my children's school, there was this certain unspoken rule in our hearts about happiness. Basically, if you felt it, you had moved on. And how on earth does anyone move on from the unimaginable? You don't, unless you are heartless. But since when did cheerfulness mean we are heartless? When did seeing the joy mean we didn't care? When did setting yourself apart from the screaming and crying to tell a few jokes make you insensitive?
I struggled with this for a long while. Was I missing a gene of compassion? How on earth could I go through all the stuff that I have gone through (and oh, sweet sister, have I gone through stuff) and still find life funny? Is it just a coping mechanism? Am I pushing grief down, masking my true feelings? It was my coming upon a little blurb about Saint Philip Neri in The Magnificat, that made me feel a whole lot better about my love of what's funny, no matter how dire the circumstance: "To have a sense of humor is to be wise enough to see things in proportion. Saint Philip Neri...[won]...hearts for Christ by the quality of his joy."
It's not that I think that suffering is funny. I don't. It is 100% painful and insanely hard, and I wish it didn't slap me in the face as often as it does. But what I do know is this: Every painful thing we endure here on earth doesn't hold a candle to the feast and the joy and the goodie bags and the cake and who knows what else the Lord has planned for us in that big ol' party in heaven! I hope that, like Saint Philip Neri, I see things in proportion.
As we slowly emerge out of the craziest months of our lives, bracing ourselves in anticipation as we wait for the next disaster, it would be good to ask, What is the quality of my joy? How do I see things? How do I view the world? Am I so focused on the tragedy of it all that I have failed to see the joy? Am I so wrapped up in the bad news and suffering, that I have forgotten the commission to spread the good news? Because truly, it is our confidence in God and dependence on Him that allows us to live out the joy of the Gospel and bring it to others no matter how distressing the circumstances or trials of our life are. We are an Easter people, after all, and "everything stinks!" is so not our song. Alleluia is! I give you permission to shout it. No matter what you're facing right now. It is okay to be happy. It is not a crime to spread joy.
Proverbs 15:30 tells us, "A cheerful glance brings joy to the heart; good news invigorates the bones." And I don't know about you, but I have witnessed some seriously weary looking bones walking around this earth lately. Hearts are heavy and burdened and terribly afraid. The world could use more cheerful glances. The world is in dire need of some good news right about now. And who better to bring it than you?

My mother recognized the power and influence that women were going to have in my life. Instead of leaving that influence to chance, seeing who I might naturally be drawn to who may or may not have pointed me toward God, she took charge. Throughout middle school and high school, she found women who she believed would have a positive spiritual impact on my life. She asked them if they would be willing to mentor me.
Carolyn Searway, Tenley Ireland, and Laurel Lufholm (two of these women are no longer living) all had a part in shaping who I am today. They drew from their experience, had me read certain books that we'd discuss, baked cookies with me, prayed with me and for me, held me accountable…they changed my life. Carolyn taught me what to look for in a husband—challenging me to think long term even when I was in high school. Tenley taught me how to have daily quiet time and the importance of it. It was Tenley who challenged me to choose something that I wanted to be an expert in—something I was going to be passionate about and take to the next level. I debated making my one thing the theater, but I chose the Bible instead. She introduced me to the idea of living your life according to priorities and giving God first place. Laurel taught me that it isn't so important that we be charismatic when we talk about Christ—it's far more important that we be faithful in the hidden places.
My mom didn't wait to see if this was what I wanted to do. Quite honestly, I didn't. But one thing I could not deny, these women cared about me. I knew they were busy and were offering me what was precious: their time. They kept showing up, and I kept showing up, and without even realizing it, I was learning life principles that I still go back to today. I wonder how often they wondered if what they were doing was worth it. Perhaps they did. But they didn't give up. They made a mark on my soul.
There comes a point when kids naturally want some independence from their mothers. When my mom saw that coming, she chose someone to step in; she chose who she wanted speaking into my life. This is something you can arrange for your children, but what I really want you to think about is being that person.
You may feel ill-equipped. But I promise you, God has given you everything you need. In the words of St. Paul, "God did not give us a spirit of timidity but a spirit of power and love and self-control" (2 Timothy 1:7).
My friends, this next generation is ours to raise. All of us. We all are needed. Godmothers, aunts, stepmothers, grandmothers, sisters, coaches. The words they listen to matter. The words we speak matter. So we choose to speak life—about this generation and to this generation. We look in their faces and tell them there is hope. We tell them that they are beautiful and beloved. We tell them they are needed, and they have an important place here in our hearts and here in the world. We encourage them to love well and extravagantly, to sacrifice for others, to be kind, to search for truth, and to persevere. We do all we can so they can stand on our shoulders—so they can reach higher. Don't underestimate the power of your words, written and spoken. But not just the words spoken to them; also the words spoken about them.
The next generation is listening, and more importantly, they are watching. Young women are looking at our lives for evidence that Christ really makes a difference. They are asking the perennial questions that we need to wrestle with, too.
Everyone asks, "Who am I?"
Is your identity rooted in Christ, or in your achievements, possessions or reputation?
Everyone wants to know, "How can I find real love?"
Do they see selfless, other-focused, forgiving love in your life?
We all ask, "What does it mean to be happy and live a good life?"
Does your loved one see Christ in you, resulting in joy?
People are asking, "How can I find lasting peace?"
What is seen more in your life: peace or worry?
I know that we are all on our own journeys. None of us is perfect. But if we are serious about passing the faith to the next generation, then we're going to have to take a serious look at our personal witnesses. Do young people want in on the quality of our lives?
This next generation is ours to raise.
So we will not let go. We will not give up.
We will not allow the flame of faith to be blown out—not on our watch.
Love,
Lisa
P.S. This month we're inviting the WWP community to send messages of gratitude and encouragement to the faithful women who have prepared the way for Christ in our lives—women like Carolyn, Tenley, and Laurel. Join us as we build up our sisters in Christ and pay it forward to the next generation at the same time. Learn more here.

I've just celebrated a milestone birthday—my 50th. As I survey the landscape, it's looking like pretty fertile ground for gratitude. There are some hard-won interior victories that have allowed me to see progress in areas of my life where old patterns remained for far too long. I lost years of joy by allowing other people's opinions of me to dictate my sense of self-worth. My mood and self-esteem would fluctuate according to how this or that person saw me and treated me. It was a seesaw life emotionally. But after some deep soul work, I have been tasting freedom in this area. I've been better able to live for an audience of One, getting a little closer to being able to say along with St. Thomas More, "I do not care very much what men say of me, provided that God approves of me."
Some of my favorite things about starting this new decade:
Freedom to rest in imperfection
Freedom from people-pleasing
Deeper awareness of what matters and what doesn't
A new level of spiritual intimacy and abandonment
The joy of seeing adult children launch into life yet come back home
Friendships that stand the test of time
Family ties that anchor and hold me
A husband who sees me and gives me a safe place to just be
A friend of mine read my list, and asked me to help her brainstorm a list for her. She, too, was celebrating a milestone birthday, but said that, while she wished she could just take my list and run with it, her story was unique. There are challenges she is facing that are different than mine. I suggested the following, with hopes that she'd use the list as a springboard to personalize it, tweak it, and come up with her own ideas:
Simply being here. Being alive at this age is a privilege that many people do not get.
Knowing I have far more wisdom today than I did in my 20s.
It is what it is. By this I mean that things are not likely to drastically change, which gives me the opportunity to ponder the question, "What if this were enough?"
After spending years measuring my worth in all sorts of ways, I now see that at the end of my life God will look at how I have loved. That's it. How I loved Him, and how I loved Him in others. This means that every hard place where I am asked to love sacrificially is a defining moment for me.
The freedom of choice to practice daily gratitude. What if I only had tomorrow what I had thanked God for today?
The gift of finishing well and not shrinking back in my service to my aging parents.
Having learned the lesson that life can change in an instant, I should never miss an opportunity to say, "I love you," "I'm proud of you," and "I'm grateful for you."
Having learned the gift of silence, I no longer feel the need to fill every awkward space with chatter.
A greater awareness of places I need to surrender control to God.
Getting older brings all sorts of things we don't want (failing eyesight, colonoscopies, and overall sagging, to name a few), but there are a number of things that are undeniably better if we have been good students of life. Suffering can make us more mature or more bitter; it's up to us which we become. Gratitude factors in here in a big way. The perspective we choose is critical. If we are continuously on the lookout for disappointments, failed dreams, inadequacies, and times that people and life have let us down, we'll find ample examples. Focusing on them will feed the heaviness. But if we will do the work of finding the good in our current set of circumstances, if we thank God continually for those things, we'll start to notice all sorts of other small and surprising blessings.
How about you? Can you make a list of your favorite things (lessons learned, victories achieved) as you head into this new decade? May gratitude serve as a catalyst for happiness in 2020 and beyond for each one of us.
With love,
Lisa

I had stopped feeling joy. That was the first sign for me that something needed to change- that something was wrong and that I didn't know how to fix it.  Things were happening in my life that should have been getting me excited, that should have been touching my heart, that should have sent me reaching for my camera or my journal or someone's hand- to squeeze it and to say, "this is it"- but instead, I just felt kind of numb and very, very tired. I was starting to not care about any of it. That detachment terrified me.
These were some of my journal entries those days:
"I don't feel I'm doing anything well, which means perfect. I wish I had more time to give in almost every area of my life."
"The weight of the work is pressing on my chest. It is just too much work and not enough hours."
"How do I fall asleep at night? By listing every single thing I've accomplished that day. It's as if I am giving myself permission to rest."
I wonder where you are at today. Where are you at in terms of joy, freedom and contentment?
I look around, and I know I am not alone in what I've been feeling. So many of us have been placing our hope in all sorts of things that have frankly not delivered.
We were raised being told that we can be anyone we want to be, that there is nothing out of reach, that we can have it all. So we've been trying. Really, really hard. We're trying to live out that promise where we can have a solid marriage, raise good kids, pursue our passions, and push through the glass ceiling. We've not just been promised that we can do it, we've been told that when we get there, it'll all be worth it. Is it? I'm not so sure.
This reality made me feel really scared that I was missing my life. In the midst of the whirlwind, I determined that somehow, I was going to find it again. And once I found it, I was going to live it.
After a couple of years of deep soul work, I have found that there is another way. There is a different path. There is some new territory that's a little uncharted, but at the same time is an adventure that can bring the change that we are after.
Fearless and Free, an eleven-week Bible study on the book of Ephesians, is the result of that journey. It contains my most personal writing, and offering it to you feels a bit like handing you my heart. I don't like to feel that vulnerable and exposed, to be honest. But I believe it is time for us to face our brokenness and need for inner healing, and I know that it can be scary to peel back the layers around our hearts. So I offer you my brokenness, my honesty, and the truth that I have found to be life-giving and transforming. I offer you my hand on this journey, with the steady assurance that you are not alone.
Fearless and Free leads us on a three-part excursion: the Wakening, the Wrestling and the Warrior.
In the Wakening, we'll wake up to the reality of who we are in Christ. Our true identity has been stolen and messed with, and we need to get it back in order to walk in freedom. Once we have it clear in our heads, we need to live out of that reality.
In the Wrestling, we'll learn to "Be renewed in the Spirit of our minds and clothe ourselves with the new self" (Eph. 4:23-24). This is talking about a totally different mindset. A completely different way to think and deal with our emotions. It's the part of the journey where we learn to recognize our Father's voice. We'll become strengthened from within, as we learn to wield the tools and weapons that have been at our disposal all along.
In the Warrior, we are going to recognize that we are in a battle. It's a battle for our hearts. It's a war on our freedom. And by God's grace- that unearned, unmerited favor and strength- we are going to take back what the enemy has stolen from us.
We are going to allow our loving Father access to our hearts.
We're going to experience healing, and joy, and the high of being fully alive.
No more numbing.
No more hustling for our worth.
No more proving.
We are going to awaken to something totally new, different and free.
Will you join me?
Lisa
P.S. With an emphasis on healing and wholeness, Fearless and Free is the most personal and transformative study that Walking with Purpose has offered so far. A Leader's Guide is included, to help leaders run group study effectively. Start your journey and share it with a friend here!
This is an updated version of a post that appeared on the WWP website in 2018.

My workday begins at 9 AM, so at 8:59, I commute up the stairs to my home office, formerly known as the guest bedroom. At Walking with Purpose, employees work remotely, which is a blessing and hugely convenient for working moms like me who tend to spend their morning hours searching for their kids' lost sneakers, water bottles, and homework assignments while packing lunches, and, in my case, removing cat fur from the kids' clothes with that sticky roller thing. Once my youngest son climbs on the bus at 8:35, I have 24 minutes to pull myself together enough so that when my boss invites me to a Zoom video conference call at 9 AM, I'm ready (ish).
That scenario played itself out recently, when my boss (WWP's CEO, Julie Ricciardi) Zoomed me at 9 AM from Denver, CO. It was two hours earlier for Julie, but she had been up for hours anyway.
"I went to Mass at 6 AM," Julie told me that morning. Knowing Julie, she had also exercised, enjoyed an extremely healthy breakfast, answered 100 emails, and maybe even solved world hunger before our 9 AM call. As we spoke, we could see each other via video connection, and I was hoping I was sitting far enough from the camera so Julie couldn't see the cat fur on my shirt.
When that Zoom call ended, I realized I was feeling something unusual-I was feeling envy. Or more exactly, an emotion somewhere between envy and longing. It was envy-longing for what Julie had. I'm not talking about her peaceful and productive mornings. I wasn't envious that she went to 6 AM Mass; I was envious that she wanted to go to 6 AM Mass.
Does that even make sense? Is there logic in that-in feeling envious of a relationship with Christ when that relationship is a thing that I am equally entitled to? No one is keeping it from me, purposefully dangling it out of reach. If it is within my reach, a fruit I can easily pick, I should feel no envy over it.
But I do wish I possessed a faith so strong that waking up before the sun in order to be present with Him in the Eucharist wasn't a chore but a blessing.
The Walking with Purpose Bible study Opening Your Heart was written to help women like me open their hearts to Jesus Christ. I participated in an Opening Your Heart parish program study not long ago and my heart was opened, but now that I really think about it, and now that I'm being honest with myself, perhaps it wasn't opened all the way.
That was really bothering me for a few days last week; that and the fact that envy is a sin.
But as I got caught up in the day-to-day of my hectic life and the kids' activities on Friday and Saturday, my faith envy got back-burnered.
Then Sunday came, and Father Joseph Akunazeri (a newly-ordained priest of the Archdiocese of New York) celebrated the 10:15 AM Mass at our parish. His first Mass as a priest.
Sisters, he was BEAMING; smiling from ear to ear, so full of joy and the Holy Spirit, he was practically glowing.
Me? I was envious, again. I don't know that kind of joy, I thought to myself as I sat bookended in the pew by my two sleepy children.
Suddenly, I was struck with a thought. God knows I don't want to feel envious. He wants me to do something to get rid of that useless feeling.
Joining another Walking with Purpose Bible study group would do wonders for my soul, but the closest WWP parish program is pretty far from where I live. Perhaps I should double my efforts to bring Walking with Purpose to my own parish? Problem is, that would be more of a give than a get, if you know what I mean. Maybe what I really need is a spiritual mentor...
As I was contemplating these questions (while blowing cat fur off my computer keyboard), I decided to turn to my Opening Your Heart study guide in search of answers.
Would you believe that the first page I opened to (Lesson 12, Day 4 introduction) contained these words, written by author Lisa Brenninkmeyer:
"Do you want to become a saint? I'm not talking about wanting recognition for your holiness. A saint is simply someone who has been radically transformed by Christ. She has pursued Jesus wholeheartedly, and in that pursuit has been changed for the better."
My answer is yes! I do wish to be radically transformed. It is likely that my pursuit of Him has not been entirely wholehearted. How do I open my heart all the way? I'll continue to pray about it, and I hope you'll pray for me too.
Blessings,
Jen

A group of around thirty high school girls are currently rocking my world. Each week I load up my car with baked goods, kantha quilts made out of recycled saris from India, twinkle lights, pillows and blankets and head over to the local Catholic high school. I do my best to create a safe place of beauty- to offer a pause in the busy week- a time for the girls to take a break and be reminded of who they truly are. We call it Redeeming Eden, because we are on a journey to reclaim what the enemy stole thousands of years ago and continues to mess with today.
The father of lies is in the business of stealing our true identity as beloved daughters of God. But we're not just daughters. We've got an older brother who fights for us valiantly and ALWAYS WINS, as long as we call on Him. It's been said that a woman who knows God as her Father and Jesus as her older brother is unstoppable. That's the truth I'm determined to pass on to these young women.
These are the sorts of questions they've ask me:
"How do you find yourself after you've been lost?"
"How can I find myself- who I truly am- because when you put on a different persona it's hard to figure out who you are?"
"If you feel you're starting to change (badly), how can you go back to who you really are?"
They want an answer to the question, "Who am I?" and then they want to know how to hold on to that identity. Those girls aren't that different from their mothers and grandmothers. They aren't that different from any of us.
We can begin to answer these questions by going back to the beginning- back to the place where it all went wrong. There was a time when things were as God intended them to be. Hearts were free from despair, doubt, self-hatred, confusion, competition, comparison, grief and disappointment. The world was as it should be, because the people knew who they were and who God was. Needs were provided for by a loving Father who could be trusted. There was rest. There was certainty. There was security. There was peace.
But the enemy of our souls couldn't bear to see us experience what he had forfeited for himself. Satan, the accuser, entered the scene with the goal of getting man to doubt God's goodness, provision, and trustworthiness. He knew that if he could get our eyes off God and onto ourselves, he could begin to drive a wedge into the utterly life-giving relationship we are privileged to share with our Creator.
How did he do it? Once such goodness and perfection had been tasted, what could cause a person to walk away? The enemy accomplished this by tempting Eve to attempt to grab the identity of God for herself. And we have been caught in the trap of self-reliance and self-worship ever since.
God had given Adam and Eve the freedom to eat the fruit of every tree in the Garden of Eden, save one. One tree was off limits. The enemy drew Eve's eyes to the forbidden fruit and seductively suggested that God was holding out on her. He whispered, "For God knows that when you eat of it your eyes will be opened, and you will be like God, knowing good and evil." (Genesis 3:5)
You will be like God. No longer dependent, no longer being taken care of, no longer being provided for- you will do the providing. You'll be self-sufficient. You won't need Him anymore. You will be in charge. When your eyes are opened, you'll see how powerful you are.
May we never forget the identity of the one doing the talking. We read in John 8:44 that Satan "was a murderer from the beginning, and has nothing to do with the truth, because there is no truth in him. When he lies, he speaks according to his own nature, for he is a liar and the father of lies."
Because make no mistake, he is whispering the same lie to you today. He is tempting you to trade the incredible gift of being protected, delighted in and cared for by your Heavenly Father, for self-sufficiency and trying to do everything in your own strength. He is tempting you to trade the gift of having your big brother fight your battles for you (battles He is guaranteed to win) for heading into the battle by yourself, unarmed and vulnerable.
We have to decide whose voice we are going to listen to. We have got to grasp hold of our true identity, who God says we are, and kick to the curb the litany of lies that is fed to us on a daily basis.
Who are you?
You are chosen. (1 Peter 2:9)
You are God's masterpiece. (Ephesians 2:10)
You are precious. (Isaiah 43:4)
You are provided for. (Philippians 4:19)
You are delivered. (Psalm 32:7)
You are free. (John 8:36)
You are the daughter of the Most High God, the Creator of the galaxies and beyond, the King of Kings and the Lord of Lords.
You are the sister of the Rescuer, the Bridegroom, the Alpha and Omega, the Lamb of God, the Lion of Judah, the one who is called Faithful and True.
Remember who you are by looking at the One who made you. Define yourself by your relationship to your Father and Brother, and you will be unstoppable.
May we fight for the truth and demolish the lies.
May we set an example for the next generation to follow.
May we become an army of women who trust in the Father and rely on the Rescuer.
So grateful that when I am weak, He is strong,
Lisa
The holidays are coming and the influx of catalogs in my mailbox confirms it. I can't seem to throw them away because their contents might offer me the perfect Christmas gift for my husband, the ideal accessory for my house, or to-die-for shoes. The likelihood of me actually buying something from them is very slim, but there's an underlying sense that I might miss out on something great if I just toss them in the garbage.
We see around 4,000 ads per day (1) which causes a number of things to happen simultaneously. We notice the smooth skin and perfect body on the model and wish we looked differently. We start to dwell on what we don't have instead of being grateful for what we do. Comparisons are made and contentment is eaten away. No matter what's been already given, we want more.
I can blame social media for my discontentment, but the women of Discovering Our Dignity remind me that there is nothing new under the sun. Writing this study on women of the Bible made it clear to me that the problems of comparison and contentment aren't caused by overzealous marketing; it's an age-old wrestling match within the heart. Eve wasn't measuring herself against her Instagram feed, but she struggled as much as we do. Why? Because the enemy has always known that "godliness with contentment is great gain" (1 Timothy 6:6), so from the beginning of time he's been messing with our desires.
Satan's message to Eve was, "Are you longing for something more? More knowledge? More wisdom? Then you should be able to have it! Why should you have to experience unfulfilled longings? Take matters into your own hands!" His message is the same to us today. He convinces us that we shouldn't have unfulfilled longings. And our world chimes in, suggesting all sorts of remedies. Do you want something you can't afford? Put it on a credit card. Are you longing for affirmation and attention? Dress seductively to get it. Are you discontent in your marriage? Satisfy your emotional needs with another man.
It's important to note that the longing itself is not sinful. In fact, God put this longing into our hearts to draw us to Him. But we get into trouble when we insist on fulfilling that longing with things of earth, and when we're willing to do whatever it takes to fulfill it, regardless of right or wrong (2).
Before sin entered the world, God satisfied man's desires because they were directed at Him. But everything changed when Adam and Eve ate the fruit. Desire became misdirected, and ever since that fateful day, we've battled the lie that the fulfillment of our longings will come through temporal achievements or possessions. Desire isn't the problem. The problem is where we go to satisfy it. It's interesting that the word "sin" means missing the mark. It's a picture of us aiming for the wrong thing, and disobeying God in the process.
God doesn't want to squelch or take away our desires; He wants to redeem them and raise them to new heights. He knows what's going to deeply satisfy us, and what will leave us empty.
We have 18 days until Thanksgiving. How do we root out discontentment and cultivate gratitude between now and then? We can do it with the WWP Gratitude Challenge. I hope you keep going to the end because the best one is Day 17. I'm laughing just thinking about it.
We can do this one day at a time!
Day 1: Measure yourself today by contentment and laughter rather than by inches and pounds.
Day 2: Carry a rock in your pocket and every time you touch it, thank God for something.
Day 3: Thank God for three things you like to hear.
Day 4: Satisfy your desire for beauty by listening to 'Duettino- Sull'aria' by Mozart 
Day 5: Find someone who works in the service industry and say thanks for the help they provide.
Day 6: When you get in the shower, start to list your blessings and don't stop until you turn off the water.
Day 7: Thank God for three things that you like to taste.
Day 8: Throw out your merchandise catalogs.
Day 9: Go through a drive-through line and pay for the person behind you.
Day 10: Fast from social media for the day.
Day 11: Think of three friends you are grateful for; text them and let them know.
Day 12: Measure today by how many people you complimented instead of how many people got on your nerves.
Day 13: Write a note of appreciation to someone who has taught you something or inspired you.
Day 14: Thank God for three things in your home.
Day 15: Watch a sunset in the most quiet place possible.
Day 16: Unsubscribe from email lists of 20 companies that send you too many ads.
Day 17: Binge watch John Crist videos. As in WATCH THEM ALL. You're welcome. 
Day 18: Thanksgiving!
Grateful for you-
Lisa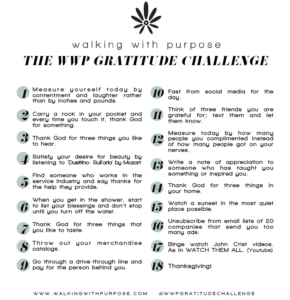 1. Ron Marshall, "How Many Ads Do You See In One Day?", Red Crow Marketing, https://www.redcrowmarketing.com/2015/09/10/many-ads-see-one-day/, accessed October 29, 2018.
2.  Lisa Brenninkmeyer, Walking with Purpose, Discovering Our Dignity, 2017, 20-21.