It's Thanksgiving week, and although COVID-19 has messed with a fair share of travel plans, I would guess that many of us will still be sharing the holiday with loved ones. While this is something that can result in joyful feelings of anticipation, it also leaves some of us worried about how people are going to get along around the table.
If only we all agreed on religion and politics.
If only awkward and hurtful things wouldn't ever be said.
If only we knew how to encourage one another in a way that really hit the mark. Wouldn't that make things easier?
I think we often conclude that the only way to get through holidays with sticky relationships is to keep things on a very superficial level and not talk about anything that really matters. But when we settle for this, our relationships aren't very satisfying. How can we take things to a deeper level without things getting fractious? 
I believe that asking certain questions and truly listening to the responses can be a game changer. Here's a link to some conversation starters that we've created with diverse groups of people in mind. Most of us have different views represented around the Thanksgiving table. These questions help us to get to know one another on the heart level without focusing on our differences. 
Perhaps there is someone on your heart who you know is not open to God and spiritual growth. If the opportunity presented itself and the groundwork has been laid first with good listening, you might want to ask him or her, "What if there's more?" Allow that question to sink in. Respect the question enough to allow time for silence and processing. Don't hesitate to leave your loved one with the question hanging. It's a good one to wrestle with.
When asked how to evangelize in a culture that is indifferent to God and religion, Bishop Robert Barron has said that we should begin with the beautiful, which leads you to the good, which points you to the truth. We need to show that Christianity is attractive. As Blaise Pascal famously said, we are to make good men wish it was true. 
So how do we do this? How do we begin with the beautiful? Creating a lovely Thanksgiving table is a quiet way of ministering to the heart. Beauty breaks down barriers. Another way is to increase our exposure to beautiful and good literature, art, and music. The imagination can offer a spiritual opening as we begin to consider the possibility that there is something of meaning, something that moves us, something more than the superficial things that surround us. 
Bishop Barron has said, "Agnostics are often deeply interested in beauty, goodness and truth. Find out which one they are interested in—that's your hook. That's your string that you need to follow. Keep going in that search for ultimate meaning. The passion for justice is an echo of the voice of God in you. It's summoning you. The conscience—what is it—what is calling you to something better, something good, something just? Could that be God?"
Perhaps there is someone at your Thanksgiving table who is spiritually searching, but he or she is searching in the wrong direction. You are probably really tempted to point out what is wrong about their search. I would encourage you to resist that temptation. Instead, you might want to consider pointing out the things he or she is doing well. Is he seeking truth? Desiring a life of purpose? Let her know you are proud of her. This is something we never stop needing to hear.
I pray that you start having more conversations with your loved ones about the topics of meaning in life, purpose, what we want out of life, how we can be truly fulfilled, and how we can be happy. I pray you'd be able to enter into these conversations and listen. To resist the urge to give the answer. To allow your children to talk. 
In preparation for Thanksgiving, you might want to pray the following for the loved ones who will be around your table and those far away.
Dear Lord,
I ask that you would give my loved ones a heart to know you, that you are the Lord, so that they will be your people and you will be their God. May they return to you with their whole hearts. (Jeremiah 24:7)
I pray that you would give my loved ones a new heart and a new spirit…that you would remove their hearts of stone and give them hearts of flesh. (Ezekiel 11:19)
May you open my loved ones' eyes and turn them from darkness to light, from the power of Satan to God, so that they may receive forgiveness of sins and a place among those who are sanctified by faith in you. (Acts 26:18)
I pray that you would grant them repentance leading to a knowledge of the truth, and they may come to their senses and escape from the snare of the devil. (2 Timothy 2:25-26)
God, we know that no one can come to Jesus unless the Father draws them. May you draw our loved ones to you. (John 6:44)
May you overwhelm our loved ones with the reality of your love, so that he or she can "grasp how wide and long and high and deep is the love of Christ, and to know this love that surpasses knowledge." (Ephesians 3:18-19)
For I declare that "He who fears the Lord has a secure fortress, and for his children it will be a refuge." (Proverbs 14:26)
I declare that you "will contend with those who contend with us, and you will save our children." (Isaiah 49:25)
I declare that "not one word has failed of all your good promises." (1 Kings 8:56)
I declare that the eyes of the Lord are over the righteous, and his ears are open to their prayers. (1 Peter 3:12)
I declare that all my children shall be taught by the Lord; and great shall be my children's peace. (Isaiah 54:13)
I declare that you have begun a good work in my loved ones' lives, and you will continue to complete it until the day of Jesus Christ. (Philippians 1:6) 
Happy Thanksgiving, my friend!
Grace and peace,
Lisa
PS: Don't forget to claim your two free gifts: Thanksgiving Table Conversation Cards and my Thanksgiving Prayer for Loved Ones, beautifully formatted for you to print and save.

I crawled out of bed while it was still dark, turned on the pre-set coffee maker, let the dog out, lit my candle, and started a fire. The significantly colder air and naked tree branches were doing their best to take my focus off the present peace, tempting my mind to jump ahead to what I dread: winter. I am not a fan. 
It has been ten years now that the dark and barren months of winter trigger inner and outer unrest; both a spiritual and physical fight for me to not give in to despair and to hold onto hope. Because I recognize this war within, I know what I must do. This morning, as I eyed the dying leaves that blanketed the ground below me, as if whispering, "keep looking down," I got myself close to the fire, breathed in the silence, dug into my pocket, and pulled out my rosary. 
And it whispered, "keep looking up."
In the pitch black, with only flickering flames for a light, I opened my scriptural rosary book and began to pray the Glorious Mysteries. This sweet book is a new favorite because it includes the virtues associated with each Mystery, in addition to a short reflection, prayer, and one simple question to help bring you into deeper union with Jesus. On the second Glorious Mystery, the Ascension of our Lord into Heaven, my eyes fell upon its virtue, and peace rushed in, flooding my soul. The virtue of hope. And following was this question: Do I put all of my hope in heaven, or do I live for this world? 
I closed my eyes and placed myself next to our Lady, pondering this question in my heart. Our Blessed Mother's entire life was a journey of hope. From the Annunciation to Calvary, she models perfect faith and obedience, without complaint or resistance to the cross she had been handed. She did not attend the crucifixion of her son to run away in fear or walk away in despair because Jesus did not turn out to be the king she had hoped He would be. Mary participated in the Cross, sharing in the sufferings of her son, watching and standing, her focus always on heaven. Mary never surrendered her hope.
And I am wondering where you might be today. Are you watching and standing? Are you focused on heaven? Or have you surrendered your hope?
I have had my heart shattered by two devastating crosses; crosses of tragic loss and heart-piercing disappointment, both of which were accompanied by a heavy dose of fear. When everything was chaos and all appeared meaningless, it is this virtue of Mary's—her heroic hope—that saved me. You see, Christian hope is not a wish but a confident and joyful expectation that the promises of Christ will be fulfilled. This is a hope that doesn't disappoint; a hope that protects us from becoming paralyzed by fear and discouragement when things do not go our way. This is the virtue that keeps heaven before us through our earthly trials; the whisper of Mary that encourages us to keep God in His rightful place and to keep looking up. 
Easier said than done, right? Personal and worldly troubles will never cease to tempt us to take our eyes off Christ. The enemy of our soul takes great delight in watching us as we let go of God and reach for the lesser things of this world to anchor us. Friends, do not fall for this. Only Jesus Christ is our anchor. Divine hope comes from the Cross. Our hope is found in Christ alone. He has the power. He is almighty. He is sovereign. He is good. He is our cornerstone. He is our stronghold. He is called Faithful and True. He is the One that even the waves and winds obey. He is a good Father who keeps His promises. He is the same yesterday, today, and tomorrow, and He is always in control. ALWAYS. And I know you have heard all of this preached at you before, and you have probably been bombarded by similar words on social media. But let me ask...do you believe it?
"Blessed is she who believed that there would be a fulfillment of what had been spoken to her by the Lord."[1]
Mary had hope because she believed. If we want to be like Mary, courageous to the extreme, filled with the Holy Spirit, and rocking the virtue of hope, we need to run to her, and we need to run now. We are not walking alone in this hurting and broken world. We have a mother in heaven. A mother who desires to bring us into deeper union with her son. A mother who has felt and sees our pain, takes our hand, and points us to Jesus. She protects us beneath her mantle and intercedes on our behalf, as she kicks the leaves from our feet and uncovers the ground, lifting our chins up to heaven while whispering, "keep looking up."
Praying that we, like Mary, keep looking up, recklessly hoping for the world to come.
Your sister in Christ,
Laura
P.S. If you were unable to join Lisa Brenninkmeyer on the Rosary Call for Our Country, you can watch and listen here anytime. The Rosary is our greatest weapon and our quickest remedy to despair. If you are low on hope, my friend, run with me to our Blessed Mother.
[1] Gospel of Luke 1:45 NASB

Today is a significant day in our country—one where we are able to exercise the incredible right to vote and influence our society. This particular election finds our country polarized along political lines. Many lament our collective inability to take part in civil discourse, fueled no doubt by the influence of social media. Distance demonizes, and many people feel burned out and deeply discouraged by the political process. 
I can think of no better response to the current political climate than to go to our knees in prayer. Not to talk about prayer, but to pray; because prayer moves the hand of God, and with God, all things are possible. All things are present to God, all at once. He is above time, above knowledge. He is still in control of our spinning world. This is where our hope lies.
I don't think any verse addresses this better than 2 Chronicles 7:14: "If my people, who are called by my name, will humble themselves and pray and seek my face and turn from their wicked ways, then I will hear from heaven, and I will forgive their sin and will heal their land." 
When God addresses the issue of a land that needs healing (and I think we all agree that ours does), who does He begin talking to? Is it the group of people who are far from Him? No. He begins by talking to HIS OWN PEOPLE, the ones who are called by His name. He starts with family talk. And what's the first thing He asks us to do? To go out and convince people to look at things the way that we do? No. The first thing He asks is that we'd humble ourselves. That we'd seek His face. That we'd turn from OUR wicked ways. 
This isn't where we want to start. Our desire for justice all too often causes us to look outside of ourselves. That's where we want God to start making things right. But He insists—the place to begin is within each of our hearts. 
I invite you to join us today at 1 PM ET to pray the rosary for our country. We're going to do the very thing described in 2 Chronicles 7:14. We'll start with confession. We won't just be confessing sins that we have personally committed. We are confessing on behalf of our Church, in the same spirit that the prophet Daniel did when he confessed on behalf of the Israelite people in Daniel 9. Daniel was known for his holiness, but perhaps he was able to confess in this way because his humility reminded him that there was nothing the Israelites were capable of doing that he wasn't capable of doing, and that the sin of one affected all. We are all in this together. 
Another thing we're going to pray for is that people would experience conversion of heart. There is nothing more critical than this. Nothing. All too often, what we begin with is a focus on outward behavior. We jump right away into discussions about how we are supposed to act as Christians. If this is as far as we go, then we have done an enormous disservice to the gospel. The heart of the gospel message does not begin with us cleaning ourselves up and behaving in the right way. The critical starting point is an acknowledgment that we cannot save ourselves. We need a savior. We need Jesus. It is only when we are in a relationship with Him that we'll experience the Holy Spirit giving us what we need to be holy. We do not start with behavior. That leads to self-righteousness and moralism. We start with confession and the gospel. That leads to Jesus.
I love this quote by Pope Francis: "The spread of the Gospel is not guaranteed either by the number of persons, or by the prestige of the institution, or by the quantity of available resources. What counts is to be permeated by the love of Christ, to let oneself be led by the Holy Spirit and to graft one's own life onto the tree of life, which is the Lord's Cross."[1] So let's turn our eyes to Him. Let's go to Jesus, through His mother. I hope that as we pray, we'll catch a glimpse of His beauty. I pray that we'd be overwhelmed with gratitude for the costly grace He offers us—paid in full, by Him, for us, because of His love. Let's go to our knees, on behalf of our country.
Join us in praying the rosary for our country today, Tuesday, November 3, 2020, at 1 PM ET. This is a free event but you must register to receive the Zoom link. If you are unable to join us for this live event, we will post the call on our website.
[1] Homily, Mass with Seminarians and Novices, July 7, 2013.

Do you ever feel like you are not enough?
As a young girl, it was my talent and looks that left me wanting. I never felt pretty enough, smart enough, or talented enough. I am not going to lie and say that at fifty years old I am finally comfortable in my skin and grateful for the way that the Lord has fashioned me, especially when it means I have a beard and can't read a spreadsheet. Because I am not. And in an attempt to appear like a good Catholic woman of a mature faith—one who has her priorities straight—I suppose I could just lie to you and say I have overcome all issues of vanity. But I just went to confession, and honestly? I don't want to have to go back to the priest just yet. He's new to our parish, and I really want to impress him with my extreme holiness.
So here is the truth. I do not feel like I am enough. And before you try to tell me otherwise, here is another truth. I am right. I am not enough. And guess what? You are not enough either. Isn't that great news?
Let me explain before you cross my name off the list of potential future speakers at your next women's conference.
The last few weeks have been difficult at home, especially for my daughter who is beginning to buckle beneath the weight of one disappointment after the next. And I would love to tell you exactly how she is feeling, but she won't tell me. She doesn't want to talk about it, and we used to talk about everything. She walks around, a shell of who I remember, pushing me away while she attempts to carry her cross on her own; refusing my help, when all I want to do is swoop in and swaddle her, read her Goodnight Moon, and sing a soft lullaby as I nurse her to sleep. She's seventeen years old, by the way.
I was sharing with a friend how hard this season is for me; the helplessness of it all. "No matter what I do or say, what I have done or what I offer, it's like…" But before I could finish my sentence, my friend finished it for me. "You are not enough." And we both stood still for a moment as the words "not enough" flashed like a neon sign above our heads. I went home and pondered this all evening. If I, the woman who gave birth to and protected this child for seventeen years, is not enough for her, then who is?
When I can't shake a word from my head it usually means God has written it on my heart, and so I immediately go to my friend Merriam-Webster and look up its meaning. Enough, by definition, is: in or to a degree or quantity that satisfies or that is sufficient or necessary for satisfaction. The words "satisfy" and "sufficient" jumped out at me because, thanks to studying Scripture, I recognize that those words are characteristics of God. Not me. Only God satisfies. Only God is sufficient. Therefore, only God is enough.
I was reminded of Saint Paul's words in Philippians 4:12:
"I know indeed how to live in humble circumstances; I know also how to live with abundance. In every circumstance and in all things I have learned the secret of being well fed and of going hungry, of living in abundance, and of being in need. I have the strength for everything through him who empowers me."
Paul's secret to living contently had nothing to do with what he could give, and everything to do with the actual Giver. Why? Because on his own, he knew he was not enough. It was God in him that gave him the power and strength to persevere in every situation. And as much as I would like to believe that I am the savior, it is God that will fully supply me, my daughter, and every one of us with whatever we need (Philippians 4:19). Thank the Lord that I am not enough for my loved ones, for if I were, they would never need Jesus.
As I pondered the word enough, the Lord placed another word on my heart: contentment. I not only wrestled with feeling like I was never enough but also struggled with the fear of never having enough. Am I content with being not enough? Am I content with what I have? The answer is yes. Not only content but grateful. 
Friends, after years of God trying to get my attention, painfully watching me turn to cheap substitutes and false idols in the hopes of feeling a sense of enough, it would be my weakness that eventually leads me to Him. It was my absolute inability to make things right, fix my problems, get a grip on my emotions, and climb my way out of a pit—that by the way, I dug myself—that I finally threw my hands up and said, "Enough! I can't do this anymore. Please, God, I need your help."
In any substance recovery program, this is what's called hitting rock bottom. But you don't have to struggle with addiction to experience this. We all have a rock bottom. It was when I finally had enough of seeking satisfaction and abundance in everything but God, that I turned to Him. And lo and behold, Saint Paul was right. Connect your life to Christ, and life stays together. Leave God out of your life, and it all falls apart. This is a lesson we all need to learn, and, dare I suggest, we don't always like the Lord's lessons, but man, they are good.
How do you know if your life is connected to Christ? Lisa Brenninkmeyer asks three questions in Lesson 2: Balance Through Contentment, from the Walking with Purpose young adult study Perspective, that can help us find the answer:
Is there something falling apart in your life?
Have you come to the end of your resources?
How can you invite Christ to hold it together for you?
Here's the thing. We will all have a season, or two or three (but who's counting), when life falls apart. The only thing more painful than your own falling apart is watching your loved one fall apart. And sure, we can try to jump in and do the saving ourselves. We can pretend that our love is enough and we are sufficient. We can throw out the safety net and cushion our loved one's fall as many times as we'd like. But remember, Jesus fell three times on His way to Calvary, and not once did His mother try to prevent the crucifixion from happening. Instead, she followed Him, she kept her eyes on Him, and she stood with Him. And then, she waited for Him to rise. I have to believe we were left with this model for good reason.
Friends, if you feel like you are not enough—not enough to heal a hurt, not enough to make things better, not enough to fix what's broken—do not despair, because not only are you in good company, but also, not enough is a really great place to be. For it is only when we admit our weaknesses that we can tap into His strength. It is only when we let go of self-sufficiency that we have free hands to hold fast to the One who is all-sufficient. You, beloved daughter, were never asked to be enough—only to open your heart to the Father who is.
True contentment is found only in Him. So follow Him. Keep your eyes on Him. Stand with Him. Then wait for Him to rise. He is more than enough.
Your sister in Christ,
Laura
[1] Lisa Brenninmeyer, Perspective: Keeping in Balance Young Adult Series, Part II, (Walking With Purpose, 2018) p. 40.

No matter what is going on in our lives, we all want what Jesus offers in Matthew 11:28: "Come to me, all who labor and are heavy laden, and I will give you rest." But how often do we read those words and think they are beautiful but hard to experience? Does this type of rest seem intangible? The seeming disconnect between the truths of our faith and our everyday lives can leave us feeling bewildered and discouraged. 
Henry Drummond, a Scottish evangelist from the 1800s, suggested that while many people don't regret their religion, they are perhaps disappointed by it. He went on to write, "Men sigh for the wings of a dove, that they may fly away and be at rest. But flying away will not help us…We aspire to the top to look for rest; it lies at the bottom. Water rests only when it gets to the lowest place. So do men. Hence, be lowly."[1]
There is a lot of wisdom in Drummond's words. First of all, yes, we all find the idea of escape very appealing. Man always has. Drummond is drawing from Psalm 55:6, penned by David, "O that I had wings like a dove! I would fly away and be at rest." While few of us "sigh for the wings of a dove," we do seek to escape through excessive online shopping, another glass of wine, binge-watching shows, and other activities that take the edge off. We think they will leave us feeling rested, but we're rarely satisfied by them. Why does escapism not help us? Because the solution isn't somewhere "out there;" it's found in the interior life. It's located in the soul. This is where God meets us, in the present moment, and offers us rest.
Drummond says that rest isn't located at the top, but lies at the bottom. If we think that hitting a certain goal or reaching a level of achievement will finally give us permission to rest, we'll be sorely disappointed. Just when we think we've reached "the top," we're surprised to find that there's another whole level to go. So what's going on at the bottom? Is that where we go when we just give up and decide to stop trying? What does Drummond mean by getting to the lowest place and being lowly?
I believe he's describing the virtue of humility. Humility isn't thinking that you're worth less or putting yourself down. It's seeing yourself as God sees you. Changing the way you see yourself, seeing yourself through the eyes of God, doesn't always come easy. For some of us, we think our past mistakes cause God to be disappointed in us. We feel that if we could just develop better coping mechanisms, get rid of our selfishness, and get our act together, He'd love us. But in the meantime, we figure we fall short of what God requires. We wonder how He could possibly love us. 
If that's where you are at, I wrote my latest devotional, Rest: 31 Days of Peace, for you.
It's for those who have heard Bible verses or messages about God's tenderness and whispered to themselves, "That may be true for other people, but not for me." It's for those whose impression of God is of someone who is indifferent, impotent, or disapproving. If you know with your head that Jesus loves you, but it doesn't feel like it in your heart, this book is for you.
I wrote this devotional for those of us whose hearts have been hurt, who are experiencing weariness overload, who long to feel treasured but find it hurts too much to hope. It's for those of us whose inner voice is unkind and who fall asleep at night while a litany of failures runs through our minds. It's for those who have called out for God and found Him to be silent.
The Bible is full of assurances of God's love for His people. But I know that believing those verses in theory and feeling that they are true for you personally are two different things. What I am hoping to do through this little book is close that gap. 
So I am inviting you on a journey of the soul. I know that might feel scary or like a waste of time. But what if there is more than what you are currently experiencing? What if it is possible to come to a place of inner peace where you know who you are, and know beyond a doubt that you are seen, known, respected, and loved? 
Going to the lowly place means bowing your head for God's blessing and outpouring of grace. It's accepting that you are loved beyond measure and longed for by your Savior. It's seeing yourself through His eyes.
It's my prayer that the message of Rest will be a balm to the heart during a time when we all desperately need hope, peace, and a good dose of kindness. Order Rest: 31 Days of Peace for yourself and anyone with a hurting heart. 
May His perfect love drive your fear away,
Lisa
[1] Henry Drummond, Pax Vobiscum (Palala Press, 2015), 30.

When I was twenty-three years old, I walked out of Mass almost in tears. "I can't stay here," I thought to myself. "They don't know Jesus; they don't know scripture; heck, they don't even seem to know each other." I was raised Catholic, but it wasn't until I darkened the door of a non-denominational church that I met Jesus Christ in a way that transformed the very core of my being. For years, I held bitterness toward Catholicism, feeling like I had never learned the true gospel in Mass on Sundays. My experience in the Church, though better than many, was all I had to work with, and it wasn't enough. 
Determined to leave, I started researching the Catholic faith so that I would know what I was leaving. Big mistake. Over the course of six months, I discovered the hidden treasures of Catholicism. Realizing how wrong I was, I returned wholeheartedly and gave my life to Jesus and His Church. It was the best decision of my life.
At least half of my story is THE story of most millenials who were raised Catholic. Millions grew up in Catholic families and attended Mass, but their lackluster experience with what they perceived as a stale religion sent them running for the door. We were in search of greener pastures. The difference between my story and theirs is that most of them did not discover the true beauty of Catholicism. They left and have not come back. 
It is these men and women, my generation, that inspired me to write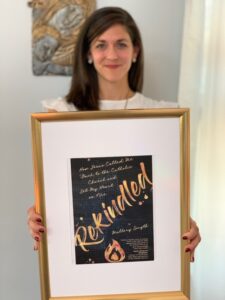 Rekindled: How Jesus Christ Brought Me Back to the Catholic Church and Set My Heart on Fire, which will be released on November 6. For at least the past three generations, our everyday experience of Catholicism has done a disservice to the faith that we profess and the people who are supposed to profess it. I have watched my generation bleed out of the Church, and since I was one of them, I don't blame them. There is a significant gap between the beauty that awaits us in the teachings of Catholicism and the daily experience of the average Catholic. This book is all that I want to say to the countless men and women who have sat with me and told me their reasons for leaving, and for all the parents that I know who mourn that their children no longer practice the faith. It's the expression of my heart as it aches for so many of my friends to return to the Church and discover the joy and meaning for which they search, and it starts with the message, "I get it." 
In each chapter, I share honestly about my own experience growing up Catholic, which I believe is a common experience. We have all experienced bad Masses, grappled with the scandals of our clergy, and struggled with insufficient knowledge about what we believe in the first place. My hope is to provide an account that validates the pain and doubt that so many Catholics and former Catholics feel.
Here in these pages, I cover nine reasons that many Catholics have left, explaining what I experienced, what I learned, and why I stayed. This is not a book that is meant to bash the Church, although I do not sugarcoat any of the problems plaguing Catholicism today. I talk about them openly, hopefully even with a sense of humor, as I believe that every Western Catholic alive will be able to relate to the issues in at least one, if not all, of the chapters. After discussing these issues, I share what it was that led me to fall in love with being Catholic. 
Hidden under the mess of it all, there are infinite reasons to embrace Jesus Christ, His Church, and His mission. I seek to bring them to light. I believe all of the reasons eventually boil down to this: Christianity is the Truth but Catholicism is the fullness of the Truth. The Church offers us a way of life that, if followed, will lead us to a life of freedom that lands us at the feet of our King, Jesus. All the history, the traditions, the prayers, and, most importantly, the sacraments lead us to the God for whom we were made. There is more here than meets the eye. While there is much work to be done, it would be a shame for those of us who were raised in the Church to miss the jewel that has been right in front of us all along.
Have you ever grappled with your experience as a Catholic? Do you have a loved one, a son, or a daughter who has left this Church that you love so much? Are you struggling with Catholicism yourself or have one foot out the door? I invite you to walk with me through each chapter. Let my story illuminate your own, strengthen your faith, and lead you even more deeply into the heart of Jesus and His broken and beautiful Church. 
Preorder Rekindled for yourself or for a loved one, and rediscover this ancient, surprising beauty with me on November 6.

This post is for all the people out there who are not eating popsicles or frolicking on the beach this summer.
To narrow it further…
It's for you, my friend, you who are in the middle of a storm of circumstances that make you want to run away.
It's for you, my friend, you who want to scream with frustration, but recognize you need to hold it together.
It's for you, my friend, you who are having a hard time reconciling who you know God to be and how He feels to you right now.
It's for you, my friend, you who feel so alone and so certain that no one understands what you are going through.
It's for you, my friend, you who feel it's all up to you, and think you just might go under if you don't get some relief.
God sees you. He sees that despite all that is weighing on you and overwhelming you, you are remaining faithful and are staying put. He doesn't look at this as a paltry effort. In fact, He, more than anyone, knows what this is costing you.
God is holding you. Your circumstances feel crushing. He is underneath you, holding you up. I know you can't see Him, but I promise you, He is there.
Two things in particular make suffering through a crisis especially hard. One is not knowing why we are having to go through this. If we had an answer to the question of why, there is very little we could not endure. But we usually don't know, which means trust and faith are required. They are needed most when they are the hardest to hold on to.
The second thing that makes a crisis especially miserable is the fact that we so often don't know what to do. If we just had clear instructions, even if we didn't want to do what was required, we could at least force ourselves to move forward. But so often, when our lives are in a free fall, we aren't sure what we can grab hold of. We desperately want someone to tell us exactly how to keep going, yet the uniqueness of our situations prevents that from happening.
I don't presume to know what your crisis entails, but I want to share a few truths that have been lifelines to me when my life feels chaotic and my circumstances are knocking the wind out of me. I pray they are of help to you. They don't answer the question of why, but perhaps they give you some steps to take when you aren't sure where to go and the waves keep crashing over you.
     1. Do the next right thing.
You have not been given a strategic plan that addresses every possible obstacle. I get that. I know it would be helpful if you had one. God is keeping you very close at the moment, and only shining a light on the next step. So just do one thing at a time. Just keep asking yourself, "What's the next 'right thing' to do?" No matter how small the task, if we do it for God, it infuses the day with purpose. When we are in the middle of a crisis, it's not a time to tackle big projects or challenges. But we can do small things and infuse them with tremendous love.
As the Blessed Mother said at the wedding at Cana, "Do whatever he tells you." (John 2:5). Do whatever Jesus tells you. The way he does this is by helping us to identify the next right thing that our duty in life requires. We ask the Lord, "What is the next right thing that you would like me to do?" It might be unloading the dishwasher or calling a friend to apologize. The next step is to do that next thing for God's glory, not our own. And this changes everything.
If the next right thing feels insignificant, say to the Lord, "I am going to fold this load of laundry for your glory. I entrust the results to you." Suddenly, this simple activity has become an opportunity for you to encounter God. He is present there with you, delighting in the fact that you are doing the next right thing with a good attitude.
If the next right thing is something that feels overwhelming, say to the Lord, "I am going to step out and do what feels difficult for your glory. I entrust the results to you." If it goes well, the glory goes to God. If it doesn't go well, the results of it rest with God. Neither the success nor the failure rests on you.
     2. Make no changes.
When we are in a crisis, our desire for relief can cause us to question all sorts of previous decisions. We have thoughts like these:
"Why should I keep praying? It doesn't seem to be making much of a difference."
"Why did I volunteer to help in that way? Forget it. All I can do is take care of myself."
"Why am I working this wretched job? I can't take it anymore. I'm quitting."
"Why did I marry this person? I have got to get out of this. I'm leaving."
When these are our thoughts, we are playing right into the enemy's trap. He is literally jumping up and down with glee and whispering into our ears, "Do it. Get out of it. Quit. You've had enough."
Here's my advice (which I actually got from St. Ignatius of Loyola in his Discernment of Spirits): DON'T MAKE ANY CHANGES. Stay steady at the wheel. Just get through this chaotic storm. When things calm down, that's when you can re-evaluate your decisions. But not right now.
     3. Amp up your spiritual disciplines.
I know this is the last thing you want to hear, but this is critical. We have to fight back. If we lay down like we're already dead, the enemy will be emboldened and mess with us more. If you do more spiritually (just a little bit more- nothing crazy), he will flee. He is a coward. He is weak, and a defeated foe. Get up and fight back. If you previously prayed ten minutes a day, pray fifteen. If you normally go to Mass once a week, go an additional time. If you feel like frowning at everyone you meet, smile instead.
     4. Practice gratitude.
Even if it's not what you are feeling, write down what you are grateful for. Do this every day of the crisis. Fill an entire page with gratitude each morning. Type it if your hand gets sore. If you run out of big stuff, thank God for the warm water in your shower. Thank Him for the fact that you don't have malaria. Unless you do. Then come up with something else. The point is, keep thinking until you find things you have that you would be sad if you did not.
God may feel cruel to you right now. I promise you- He is not cruel or capricious. He is a tender and kind Father. He is holding you, and what is crushing you is pressing you closer to His chest. This too shall pass. THIS TOO SHALL PASS. Consolation will come. This will not last forever. "The eternal God is your refuge, and his everlasting arms are underneath you." (Deuteronomy 33:27)
With you in the storm,
Lisa
"How can you all have so much joy when you are going through something so painful?" That's the question the new face at my support group asked last night. Followed by, "I want what you all have!"
As I have mentioned before, this group I attend is not faith-based. Of course, if I were to personally give witness to where I have found such joy, all fingers would point towards God. And yet, there is more to it than faith.
It's also about community.
I have always known that God did not create us to be alone. Genesis 2:18 clearly lays this out for us: "Then the LORD God said, "It is not good for the man to be alone; I will make him a helper suitable for him." But this isn't just about man finding woman. This is about man not having to go it alone.
And we do this, don't we? We try to go it alone. Be it out of shame of our circumstance or fear of rejection, how many of us choose isolation over connection? How many of us stop reaching out, strap on our masks, and white knuckle through the day, relying on our own strength? Maybe this sounds familiar to you. And if so, I ask. How's it working for you?
You see, I have recognized an undeniable truth. When I am connected to community I thrive. I become inspired and animated. Notice, I did not say, "when life is smooth sailing, I thrive." My life circumstance is not what controls me. Only Jesus controls me. And when I immerse myself in community; be it a coffee date with a friend, a Wednesday morning at WWP Bible Study, attendance at weekly Mass, or going to my support group, loneliness loses its grip, making way for joy. The truth of "me too" wipes out the lie of "no one understands", and like a Gospel miracle, I am healed. No doubt, this is the work of the Holy Spirit. No question that when two or three are gathered in His name, He is there. (Matthew 18:20)  And in the most beautiful way, this overwhelms me.
If you read this and feel sorrow because you do not have a community to run to, I am here to say...you do. Walking with Purpose is not about selling Bible studies and throwing pretty pictures up on a website. Walking with Purpose is about handing out life vests and anchors to women struggling to keep their eyes above the waves. Women who are swimming into a storm believing they have to go it alone. We are about sisterhood and support and encouraging one another.  If you do not have a parish program near you, please reach out to us. Let us help to connect you someway, somehow. And no. I am not working on commission nor was asked to say this. This, sweet sisters, is so ridiculously heavy on my heart, because my Walking with Purpose family is what gave me the strength to walk into that other support group. In her Netflix special, Call to Courage, researcher and storyteller Brené Brown says, "Vulnerability is our most accurate measure of courage." I learned how to be vulnerable from my WWP community. And I do not exaggerate when I say, it has saved me.
When searching for Scripture verses that best describe community to me, my eyes fell upon Hebrews 10:24-25, and a smile spread across my face, and truth be told, it is still there. "We must consider how to rouse one another to love and good works. We should not stay away from our assembly, as is the custom of some, but encourage one another, and this all the more as you see the day drawing near."
Something about we should not stay away grabs me. It is how I feel about my support group. It is how I feel about Walking with Purpose. It is how I feel about a certain friend who calls me in the middle of the day to shout, "I know you are writing and I hate to interrupt but I have to talk to you about the Holy Spirit!" When you encounter people who allow you to be vulnerable and encourage you to be the best you can be, how can you stay away? And when you find friends with a common thread, who weep when you weep and rejoice when you rejoice, how on earth can you not be encouraging?
How can there be joy in the midst of so much pain? Because "two are better than one because they have a good return for their labor. For if either of them falls, the one will lift up his companion. But woe to the one who falls when there is not another to lift him up." (Ecclesiastes 4:9-10)
Praying the Holy Spirit fills us with the desire to step out into community, to supply us with Sisters who are eager to love us and lift us should we fall. Grant, I pray, all our shame of not being worthy be destroyed, as we courageously step into our place, advancing the Kingdom of God.

Six years ago, I heard Lisa Brenninkmeyer preach on Loving People To Christ.  Since that day, I have gone back to view the video of this talk at least ten times. And there is one line that always gets me. It's the kind of line you hear that cracks you up and has you elbowing your girlfriend next to you, because it is not only funny, but sadly...it is true.
In the spirit of evangelization and reaching the farthest woman out there, Lisa shared that whenever she gives a shout out and says, "I want everybody to come back here next year with a friend", we kind of go, "Oh, well, they're all here, so I'm good! Done. Check." Does this sound familiar? Because it does to me. In fact, I just reviewed my Parish's annual Walking With Purpose Program Survey, and I kid you not, but in answer to the question, "Did you invite women to join you on Connect Coffee days", someone responded, "No. All of my friends are already there."  See why we laugh?
And I am not picking on any woman who responded this way. I am not laughing at someone out there. I am laughing at me. Because I could've written that response myself.
I am going on my sixth year in Walking with Purpose, having served in a variety of roles, and I will honestly share that the year I simply participated, I got oh so comfortable. I figured I had reached out enough. I had been a Coordinator and a small group leader. I had even worked for National as a Regional Area Coordinator. It was clearly time I got some well-deserved rest, and let some other laborer hit the fields and bring forth the harvest. Now, make no mistake, God is all for our rest and refreshment, and when it comes to ministry work, we especially need it. But rest and complacency are not the same thing. The truth is, if we want to contribute to the building up of God's Kingdom, I am pretty sure we need to cross feeling comfortable off of our lists.
How did I know I was too comfortable? It wasn't because I started showing up at Bible Study in my pajamas (as tempting as it was).  It was because I stopped reaching outside of my circle.
"We get comfortable in our holy huddle", Lisa says, referring to these circles. "We turn inward. The circle gets smaller and smaller and what we become are spiritual consumers looking for the next thing to feed us and keep us going and the focus stays right here."
Let's be honest. We want to be the one that God sends out, so long as He doesn't send us outside of our comfort zone. We come up with all sorts of reasons why God shouldn't send us:  we don't know enough; we are not the right woman; we can just live it out right where we are with the small circle of friends that we have and that is good enough. But ladies, God is not calling us to comfort. He is calling us to go and gather every single one of His precious daughters, and by the power of His spirit, to lead them to Him so that He can break open their hearts just as He has done to our own. We are called to freely give away what we ourselves have been given, and the only way we can do that is if we broaden our circles.
Is this scary? Yes. Is evangelization going to be a battle? Absolutely. But the biggest battle we are facing is one that is hidden. "The war is against our selfish hearts", says Lisa. And I nod my head in agreement to the beat of my own selfish heart, because really, do I practice as I preach? Do I reach out so that I feel the stretch? Hebrews 12:15 instructs us to "see to it that nobody misses the grace of God." Notice, the Scripture verse does not say, "see to it that nobody within your small circle misses the grace of God." Nobody refers to everybody.
Did you ever consider that your story might be what saves another woman? Did you ever consider that there is someone in your neighborhood, at your school, in your grocery store, at the gym, at your Bible Study, that is in desperate need of your specific story? You will never know the difference your story can make in someone's life if you sit in the same chair and tell it to the same person, year after year. As Lisa says, "We all agree in the power of His presence, but we sometimes underestimate the power of ours."
This year I have decided to leave the comfort of my Walking with Purpose seat at my table, and step back into the role of Coordinator. Perhaps God is calling you to step out of your comfortable seat as well? Widening our circles, and reaching beyond who we know, is both responsibility and gift. We can still keep our comfy circles. Building His Kingdom can be both. As a wise woman told me, "We need to embrace the power of 'and.'" We can love our like-minded friends who know us so well, and reach out beyond our comfort zone to the woman whose face is familiar but whose name we don't know. Matthew 10:8 says, "Without cost you have received, without cost you are to give."
This is the charge. This is God's command. It's time to get uncomfortable and start drawing bigger circles.
View Loving People to Christ video.

So, the question came up last night, "Can you grieve and still have hope?"
Let me backtrack here a bit, to give you the full picture. Currently, I run in two different circles: my Bible Study, which aims to lead women into a personal relationship with Christ through Scripture, and my Support Group, which aims to offer encouragement and hope to those who care for, or have tragically lost, a loved one afflicted with substance abuse disorder. This question came up at Group.
What has become crystal clear is my total inability to keep Jesus out of any discussion. To keep Jesus out of any circumstance. To keep Jesus out, period. Because I have grieved without hope; back when I did not know God's character, back when I reduced the Blessed Mother to a plastic statue, back when I believed the Gospel stories to be outdated and unrelatable, back when I did not know...truly know...my Catholic faith.
I see this a lot with cradle Catholics, fallen away Catholics, and non-Catholics. We know bits and pieces of our Catholic story but not the whole thing. Ironically, many of us wind up learning about Catholicism from our friends who have left the Church and encourage us to do the same. We misinterpret Scripture and allow the world to tell us who God is, and our hideous news feed becomes the icing on top of this lopsided cake. Then enter in the blind side: an unexpected twist in the road that takes us out at our knees, pulling us right out of hope and straight into despair; because I mean, really...if God were real, He would never have let this happen. If God were love, why would He stack one more thing upon our already burdened shoulders?
I so get it.
But here is the other thing I so get: God never promised that life will be easy or we will only be given so much. In the Gospel of John, He promises that we will have trouble. And the statement that we love to throw out in times of suffering? You know the one. "God will never give you more than you can handle."  Fun fact, folks...that phrase is not in Scripture! As Proverbs 31 Founder, Lysa Terkuerst, points out in her book, It's Not Supposed To Be This Way, "Nowhere in the Bible will you read that God will not give you more than you can handle. God does say He will not allow us to be tempted beyond what we can bear and that He always provides a way out (1 Cor 10:13) but that's not the same as God not giving us more than we can handle. He sometimes will allow more and more and more."¹
Saint Paul's words in 2 Cor 1:8-9 confirms this hard to swallow truth.
"...we were burdened excessively, beyond our strength, so that we despaired even of life; indeed, we had the sentence of death within ourselves so that we would not trust in ourselves, but in God who raises the dead."
God absolutely gives us more than we can handle...beyond our strength...because He wants us to rely on Him. God does not expect us to handle it all on our own; He asks that we hand it all over. If you do not believe you can have hope while grieving, meditate on the Joyful Mystery of the Holy Rosary. The Annunciation cannot bring Mary the joy of carrying the Son of God without the grief of letting go of a life she had planned. The Presentation cannot offer Mary the joy of dedicating her Firstborn to the Lord without grieving the news that her son will be rejected and both will suffer greatly. Joy and Sorrow. Hope and Grief. Our Lady perfectly models how they can live side by side. But to be able to do this, you need to be like Mary; you need to accept whatever God has given you to carry and believe that what He says is true.
Herein lies the obstacle for so many of us: how do we accept something we do not understand from someone we truly don't know? It is the not knowing Jesus that ultimately trips us up. It is our lack of intimacy with Christ that directs our misplaced hope. We have all of these expectations for ourselves, our loved ones, our marriages, our future, and when those expectations we hold tight to do not line up with God's plan, we stay stuck in the need to understand what God is doing; to understand how this plan, which is often endless and painful, could actually be good. I have been stuck in this place myself, sweet friend. Stayed there too long, and it is a recipe for an extinguished faith.
Coincidentally, only hours before sitting in Group and faced with the question, "Can we grieve and still have hope?", we had just chosen our Parish's Walking with Purpose Bible study for the fall: Grounded in Hope. The course description is as follows: "In a world where levels of despair, addiction, and suicide are rising, we need more than clichés or positive thinking. Grounded in Hope will help you encounter Jesus in such a powerful, comforting, and stabilizing way that He can become your lifeline."²
If you are in the midst of a suffering causing you to lose hope, maybe the question is not so much, "Can you grieve and still have hope?" but rather…"What has become your lifeline?"
Praying we always stay tethered to the Anchor that grounds us in hope.
Your Sister in Christ,
Laura
¹ Lysa Teurkerst, It's Not Supposed To Be This Way, 2018, p.111,112
² Lisa Brenninkmeyer, Grounded in Hope, Walking With Purpose 2019