Last Sunday, my second daughter, Eliza, turned three. If you don't already know this, it's because you don't live in my town. She told the whole town. And whoever may have missed the news undoubtedly heard it from her older sister, Penny, who was also shouting it from the rooftops. My three-year-old basked in the joy of her birthday all weekend. She listed off the presents she received at every chance she got, and her older sister did the same. One's joy was the other's as they soaked in the glory of this great celebration. As I watched them, it dawned on me that it is hard for adults to do this. It is hard for us to embrace joy, share joy, and celebrate with others. Joy takes courage. 
It is so much easier to focus on all that goes wrong in our lives and the lives of other women. All too often, when women get together, it isn't long before the conversation turns negative and stays negative. Someone starts to share about her struggles and before long, everyone has jumped in. It has become popular to label those conversations as "real" or "raw," and while they can be genuine, they easily devolve into unnecessary complaining. 
Please don't misread this. We should not float along as if nothing ever goes wrong or hide a bad day by pushing our feelings under the rug. Life can be messy and difficult. We need to be able to share honestly with trusted friends for comfort and advice.
That being said, it is much more difficult and risky to focus on and share about the good things that happen to us. There is more at stake. For starters, focusing on the bad is normal. We expect things to go wrong and so when they go well, we don't know how to handle it. Vulnerability researcher Dr. Brené Brown claims that, "Joy is the most vulnerable emotion we experience."[1] Most of us have not been trained to live with a joyful disposition. Even if we find ourselves experiencing it, we dare not share it with others. Being positive, if we are honest, can be downright annoying. No one wants to be a Pollyanna in a Kill Bill world. 
Sharing joy is not only risky because we might annoy someone. We also risk the possibility that we will magnify another woman's pain. If we share that we received a raise at work, will we hurt the woman who just got laid off? If we share that we are connecting with Jesus in our prayer lives, will another woman feel like she is not enough because her prayer life is dry? What if our kids are behaving, and we are genuinely enjoying our time with them? Will this news twist a knife into the heart of the mother who is struggling to have a relationship with her kids? We are keenly aware that it may seem like we are bragging, and we are all too familiar with the jealousy we have felt at the good fortune of another. With these things in mind, we keep our joy to ourselves or downplay it when we are in a group of women. This is a mistake. 
Joy is not a finite resource. God created each of us to share in His infinite joy and to celebrate when good things happen to others. For example, Elizabeth was joyful at Mary's news that she was chosen to be the Mother of God. She was not jealous, but instead she celebrated with Mary as they glorified God together. Mary, in turn, celebrated with her the news that she was pregnant with John the Baptist against all odds. There is plenty of goodness to go around. 
So where do we start? How do we shift our focus and become courageous? How do we embrace joy in a cynical world? We start by sitting with the God who is joy. We start by allowing Him to renew our minds so that we can recognize His goodness, share His goodness, and celebrate when He reveals His goodness in the life of a friend. 
In the new Walking with Purpose devotional, Rest: 31 Days of Peace, Lisa Brenninkmeyer shares how we are to renew our minds. "We saturate our minds with what is true—and that's found in the Bible. This is God's love letter to us. He is not silent. He speaks to us through His Word."[2] When we renew our minds by sitting with Him daily in His Word, He gives us the rest we need to discover the joy that He has reserved for us. He blesses us with a spirit of gratitude that enables us to be joyful for others. 
Romans 12:15 implores us to "rejoice with those who rejoice; weep with those who weep." There has been so much weeping this year. At every level of society, there is tragedy. Every morning we can wake up and be overtaken by the nastiest news cycle of our lifetime. We can look in the mirror and remember just how hard the last year has been. For honesty's sake, we may need to do this, but where does it lead? Does it lead us into the spiral of despair, or does it lead us to our Savior who endured the very cross for the sake of the JOY set before Him (Hebrews 12:2)? Jesus did not wallow in His suffering for the sake of seeming "real" or "raw." He endured it, honestly, and held on to the joy, the never-ending joy, that awaited Him. He offers the same to us. He celebrates His goodness with us. We need not be afraid to feel it. We need not be afraid to share it. What is going well in your life? Are you recognizing it with humble gratitude? With whom can you share it? How can you rejoice in the joy of another? 
This, dear sister, is the attitude shift that could change the tone of your year and the years to come. Take courage. Take the risk, and reveal your joy.
[1] "Dr. Brené Brown on Joy: It's Terrifying," SuperSoul Sunday, Oprah Winfrey Network, (YouTube Video, March 17, 2013), 5:58.
[2] Lisa Brenninkmeyer, Rest: 31 Days of Peace, (Walking with Purpose, 2020), p 67.

I recently picked up I Thirst: 40 Days with Mother Teresa by Joseph Langford, M.C., and this line spoke to me:
"God is eternally fresh and alive. It can happen that we grow stale by force of routine, at which point we need to enter again the freshness and vivid life of God's call." [1]
Let me ask. Does God feel fresh and alive in your life? 
As the pastoral co-coordinator of our Walking with Purpose parish program, I asked our leadership team how they were feeling as we gear up for a virtual kickoff; specifically, what fruits of the Holy Spirit could they use a good shot of before we welcome the 100+ women who are eager to dive back into God's Word? One woman spoke up. "I need joy. I don't feel joy."
Can you relate?
For many women, it is the face-to-face fellowship that brings them joy. For others, it is understanding Scripture for the first time. But the reason why Walking with Purpose is so much more than a Bible study is that in encountering Christ through Scripture in community, you inevitably encounter yourself. What do I mean by this? I mean it is only when we come to know Jesus in the way that He lived that we discover our true selves and what He created us for. He created you with a purpose, you know. He has a personal and intimate call for each of us. Even during a pandemic.
I think we can all agree that the last eight months or so have worn us down. We have isolated and sanitized and we have no idea what day it is anymore. As a result, watching Mass on the couch has become easier than remembering to register for a spot at church. The initial zeal for family get-togethers on Zoom has grown old, and there are even those of us who have decided to pass on our favorite Bible study this fall because the idea of meeting virtually makes us want to pull our masks over our eyes and drive into oncoming traffic.
Please don't do that.
It's not safe.
Just hear me out.
I am sick of the screens, too. Going virtual for everything, including my beloved Bible study, kills me; not only because I crave human contact, but because I have the technology skills of a dead monkey. Yes, I said dead, because I don't want to insult the living monkey who can figure out Zoom breakout rooms and screen-sharing way better than I can. And yet, here we are and we don't have many choices, but this I do know: not choosing to help women encounter God through Bible study will never be an option for me. This is my call. Nothing, not even a pandemic, will mess with that.
Has the pandemic messed with your call? Because if so, I want you to be on guard and pay close attention. It is not the pandemic messing with you. It is the enemy. He doesn't want you to encounter Christ. He doesn't want you to lead others to Christ. And he surely doesn't want you to live out your purpose. He wants to steal your joy.
He has no idea who he is dealing with.
As our fearlessly positive WWP Founder and Chief Purpose Officer Lisa Brenninkmeyer shared with the National Team on our company call, "Could it be that the enemy is panicked because he thought he shut us down in March?" Friend...do not let him shut you down. I am speaking to the woman who is so lost in grieving what day-to-day life used to be, she has forgotten what God is able to do. Our God can move mountains. Our God can part the seas. He can clean the leper, give sight to the blind, heal the sick, and raise the dead back to life. Surely, He can work miracles through our Zoom calls, too. Do not underestimate God. Our circumstances are not an obstacle, but a great opportunity. I believe we will be able to reach more women and bring God's light to places we never could have before. We may not have an open chair, but we do have an open square. The possibilities are endless.
But we need you on board.
I know what you are thinking. "But this isn't how it was supposed to be." You love the pink tablecloths, hugging your participants, and the sisterhood that has saved your life in a million ways. Personally? I enjoyed eating every last cracker and cube of cheese left on the platters as we broke down tables and chairs. I agree. It wasn't supposed to be like this. But I imagine the disciples felt the same way, staring up at Jesus as he hung on the cross. It wasn't supposed to be like this. 
Or was it? 
Because death did not hold Him, did it? He took the most horrific tragedy and turned it into the greatest victory. He always makes a way for us. Today is no different.
God wants to work big things through us and for us. No matter the season or circumstance, He invites us into His life. Friends, do not let "virtual" get in the way of the Lord's call on your heart. Do not believe the enemy's lies that you cannot have intimacy or meaningful conversations through screens. Do not give him permission to keep you from being who God made you to be. Mother Teresa reminds us of what God says to each of us: "'I have chosen you.' Never be tired, Sisters, of repeating that sentence. We have been chosen for a purpose: to quench the thirst of Jesus for souls." [2]
The women are thirsty. I bet you are thirsty, too. And I happen to know where we can quench our thirst. As Jesus says to his disciples, He says to us, too: "Come and see what you were made for: Come and know the love of the Father. Come and see where I live. Come home!" 
It is time to reclaim our joy, sweet sisters; to enter again the fresh and vivid life of God's call. It is time to come home.
With love from your virtual sister in Christ,
Laura
P.S. We know how creative our Walking with Purpose community is, and that meeting virtually does not mean an end to the hospitality we are known for! If you have a great picture of your virtual kickoff or a hospitality hack, we would love to see it. Please share with us by posting your picture on your social media and tagging Walking with Purpose using our handles on Instagram (@walkingwithpurpose_official), Facebook (@walkingwithpurpose), and/or Twitter (@walkingwpurpose). And don't forget to add the hashtag #wwpcommunity.
[1] Joseph Langford, M.C., I Thirst: 40 Days With Mother Teresa, (Augustine Institute, 2018), p.33.
[2] Joseph Langford, M.C., I Thirst: 40 Days With Mother Teresa, (Augustine Institute, 2018), p.34.

"Therefore be imitators of God, as beloved children. And walk in love, as Christ loved us and gave himself up for us." Ephesians 5:1
Before I leave the house, my husband always asks if I have my wallet. I forget it all the time, and he says it's good to have your ID with you so you can identify yourself. He's right—when I don't have my wallet, I'm lost, in a sense. If someone asked, I couldn't take proof out of my pocket and point to who I am.
The definition of beloved is "to be dearly loved" or "pleased with." From the moment we were merely a thought in the mind of God, each of us were marked "beloved" as the very core of our identity. It's not simply something about us—it's our identity. There's nothing we've done to earn it. There's nothing we've done or that's been done to us that can take it away. Beloved is who we are. And yet, how many of us live our lives out of that truth? 
Five years ago, I was introduced to a book called Life of the Beloved by Henri Nouwen that changed my life. The book revolves around the idea that every day we're surrounded by voices. The voices of society, negativity, lies we've believed, our peers, etc. What would it look like if we could silence the noise and listen to the voice, that at the center of our being, calls us "beloved"? While reading the book, I realized that instead of owning and living out of my belovedness, I was only owning my mistakes. My journey is far from over, but I work every day to own the truth of who I am.
The problem is, we can be our own worst enemy. Negative self-talk has plagued humanity since the beginning. Too often, all we see in our reflection are the things we're not, rather than embracing all that we are. Anything can set it off. A bad hair day, how you reacted to a situation at work or school, accidentally snapping at your spouse or child, an interaction with a friend. We own our negative qualities far too quickly, and we allow those thoughts to control our actions and our beliefs about ourselves. Before we know it, we're beating ourselves up without putting up a fight. If a friend said some of the things to us that we say to ourselves, she would no longer be our friend. And yet we allow our internal chatterbox to persist, often without even realizing it. 
Our identity isn't based on our accomplishments or failings, what people think about us, or how we view ourselves in the mirror. Our identity is that we are the beloved children of a relentless Father who loves us unconditionally. 
I'm reminded of a stained-glass window in a chapel in which I used to spend a lot of time. The image was of Jesus holding a sheep close to his chest. This is the goal of a Christian. To be so close to the heart of the Shepherd that you hear His heartbeat and can conform your life to that rhythm. When you do this, you'll go into each day knowing you are loved, not looking for ways to earn it. This is freedom.
I wrote the song "Belovedness" first and foremost because I needed to sing it. I needed to remind myself of these truths. When you sing truth over yourself, it releases something internally. My prayer for you when you listen to it, and what I hope you'll pray for me, is that we see ourselves and others the way the Lord sees us. Beloved isn't a badge to earn, a club to join, or a gift to withhold from others. It's our identity, it's our name, and it's the strength we need for the journey.
You are beloved. Period. Full stop. There is nothing you've done, nothing that's been done to you, nothing that's been said to you, no lie you've believed, no mistake you've made, no sin you've committed, no past or future thing that can take away your identity as a beloved child of God. It's time to silence the chatterbox and allow the truth to grow. It's time to own our belovedness. 
Belovedness
You've owned your fear and all your self-loathing
You've owned the voices inside of your head
You've owned the shame and reproach of your failure
It's time to own your belovedness
You've owned your past and how it's defined you
You've owned everything everybody else says
It's time to hear what your father has spoken
It's time to own your belovedness
He says, "You're mine, I smiled when I made you
I find you beautiful in every way
My love for you is fierce and unending
I'll come to find you, whatever it takes
My beloved"
Listen to Sarah's song or watch the video. You can also follow her on Instagram and Facebook.

Do you ever feel like you are not enough?
As a young girl, it was my talent and looks that left me wanting. I never felt pretty enough, smart enough, or talented enough. I am not going to lie and say that at fifty years old I am finally comfortable in my skin and grateful for the way that the Lord has fashioned me, especially when it means I have a beard and can't read a spreadsheet. Because I am not. And in an attempt to appear like a good Catholic woman of a mature faith—one who has her priorities straight—I suppose I could just lie to you and say I have overcome all issues of vanity. But I just went to confession, and honestly? I don't want to have to go back to the priest just yet. He's new to our parish, and I really want to impress him with my extreme holiness.
So here is the truth. I do not feel like I am enough. And before you try to tell me otherwise, here is another truth. I am right. I am not enough. And guess what? You are not enough either. Isn't that great news?
Let me explain before you cross my name off the list of potential future speakers at your next women's conference.
The last few weeks have been difficult at home, especially for my daughter who is beginning to buckle beneath the weight of one disappointment after the next. And I would love to tell you exactly how she is feeling, but she won't tell me. She doesn't want to talk about it, and we used to talk about everything. She walks around, a shell of who I remember, pushing me away while she attempts to carry her cross on her own; refusing my help, when all I want to do is swoop in and swaddle her, read her Goodnight Moon, and sing a soft lullaby as I nurse her to sleep. She's seventeen years old, by the way.
I was sharing with a friend how hard this season is for me; the helplessness of it all. "No matter what I do or say, what I have done or what I offer, it's like…" But before I could finish my sentence, my friend finished it for me. "You are not enough." And we both stood still for a moment as the words "not enough" flashed like a neon sign above our heads. I went home and pondered this all evening. If I, the woman who gave birth to and protected this child for seventeen years, is not enough for her, then who is?
When I can't shake a word from my head it usually means God has written it on my heart, and so I immediately go to my friend Merriam-Webster and look up its meaning. Enough, by definition, is: in or to a degree or quantity that satisfies or that is sufficient or necessary for satisfaction. The words "satisfy" and "sufficient" jumped out at me because, thanks to studying Scripture, I recognize that those words are characteristics of God. Not me. Only God satisfies. Only God is sufficient. Therefore, only God is enough.
I was reminded of Saint Paul's words in Philippians 4:12:
"I know indeed how to live in humble circumstances; I know also how to live with abundance. In every circumstance and in all things I have learned the secret of being well fed and of going hungry, of living in abundance, and of being in need. I have the strength for everything through him who empowers me."
Paul's secret to living contently had nothing to do with what he could give, and everything to do with the actual Giver. Why? Because on his own, he knew he was not enough. It was God in him that gave him the power and strength to persevere in every situation. And as much as I would like to believe that I am the savior, it is God that will fully supply me, my daughter, and every one of us with whatever we need (Philippians 4:19). Thank the Lord that I am not enough for my loved ones, for if I were, they would never need Jesus.
As I pondered the word enough, the Lord placed another word on my heart: contentment. I not only wrestled with feeling like I was never enough but also struggled with the fear of never having enough. Am I content with being not enough? Am I content with what I have? The answer is yes. Not only content but grateful. 
Friends, after years of God trying to get my attention, painfully watching me turn to cheap substitutes and false idols in the hopes of feeling a sense of enough, it would be my weakness that eventually leads me to Him. It was my absolute inability to make things right, fix my problems, get a grip on my emotions, and climb my way out of a pit—that by the way, I dug myself—that I finally threw my hands up and said, "Enough! I can't do this anymore. Please, God, I need your help."
In any substance recovery program, this is what's called hitting rock bottom. But you don't have to struggle with addiction to experience this. We all have a rock bottom. It was when I finally had enough of seeking satisfaction and abundance in everything but God, that I turned to Him. And lo and behold, Saint Paul was right. Connect your life to Christ, and life stays together. Leave God out of your life, and it all falls apart. This is a lesson we all need to learn, and, dare I suggest, we don't always like the Lord's lessons, but man, they are good.
How do you know if your life is connected to Christ? Lisa Brenninkmeyer asks three questions in Lesson 2: Balance Through Contentment, from the Walking with Purpose young adult study Perspective, that can help us find the answer:
Is there something falling apart in your life?
Have you come to the end of your resources?
How can you invite Christ to hold it together for you?
Here's the thing. We will all have a season, or two or three (but who's counting), when life falls apart. The only thing more painful than your own falling apart is watching your loved one fall apart. And sure, we can try to jump in and do the saving ourselves. We can pretend that our love is enough and we are sufficient. We can throw out the safety net and cushion our loved one's fall as many times as we'd like. But remember, Jesus fell three times on His way to Calvary, and not once did His mother try to prevent the crucifixion from happening. Instead, she followed Him, she kept her eyes on Him, and she stood with Him. And then, she waited for Him to rise. I have to believe we were left with this model for good reason.
Friends, if you feel like you are not enough—not enough to heal a hurt, not enough to make things better, not enough to fix what's broken—do not despair, because not only are you in good company, but also, not enough is a really great place to be. For it is only when we admit our weaknesses that we can tap into His strength. It is only when we let go of self-sufficiency that we have free hands to hold fast to the One who is all-sufficient. You, beloved daughter, were never asked to be enough—only to open your heart to the Father who is.
True contentment is found only in Him. So follow Him. Keep your eyes on Him. Stand with Him. Then wait for Him to rise. He is more than enough.
Your sister in Christ,
Laura
[1] Lisa Brenninmeyer, Perspective: Keeping in Balance Young Adult Series, Part II, (Walking With Purpose, 2018) p. 40.

No matter what is going on in our lives, we all want what Jesus offers in Matthew 11:28: "Come to me, all who labor and are heavy laden, and I will give you rest." But how often do we read those words and think they are beautiful but hard to experience? Does this type of rest seem intangible? The seeming disconnect between the truths of our faith and our everyday lives can leave us feeling bewildered and discouraged. 
Henry Drummond, a Scottish evangelist from the 1800s, suggested that while many people don't regret their religion, they are perhaps disappointed by it. He went on to write, "Men sigh for the wings of a dove, that they may fly away and be at rest. But flying away will not help us…We aspire to the top to look for rest; it lies at the bottom. Water rests only when it gets to the lowest place. So do men. Hence, be lowly."[1]
There is a lot of wisdom in Drummond's words. First of all, yes, we all find the idea of escape very appealing. Man always has. Drummond is drawing from Psalm 55:6, penned by David, "O that I had wings like a dove! I would fly away and be at rest." While few of us "sigh for the wings of a dove," we do seek to escape through excessive online shopping, another glass of wine, binge-watching shows, and other activities that take the edge off. We think they will leave us feeling rested, but we're rarely satisfied by them. Why does escapism not help us? Because the solution isn't somewhere "out there;" it's found in the interior life. It's located in the soul. This is where God meets us, in the present moment, and offers us rest.
Drummond says that rest isn't located at the top, but lies at the bottom. If we think that hitting a certain goal or reaching a level of achievement will finally give us permission to rest, we'll be sorely disappointed. Just when we think we've reached "the top," we're surprised to find that there's another whole level to go. So what's going on at the bottom? Is that where we go when we just give up and decide to stop trying? What does Drummond mean by getting to the lowest place and being lowly?
I believe he's describing the virtue of humility. Humility isn't thinking that you're worth less or putting yourself down. It's seeing yourself as God sees you. Changing the way you see yourself, seeing yourself through the eyes of God, doesn't always come easy. For some of us, we think our past mistakes cause God to be disappointed in us. We feel that if we could just develop better coping mechanisms, get rid of our selfishness, and get our act together, He'd love us. But in the meantime, we figure we fall short of what God requires. We wonder how He could possibly love us. 
If that's where you are at, I wrote my latest devotional, Rest: 31 Days of Peace, for you.
It's for those who have heard Bible verses or messages about God's tenderness and whispered to themselves, "That may be true for other people, but not for me." It's for those whose impression of God is of someone who is indifferent, impotent, or disapproving. If you know with your head that Jesus loves you, but it doesn't feel like it in your heart, this book is for you.
I wrote this devotional for those of us whose hearts have been hurt, who are experiencing weariness overload, who long to feel treasured but find it hurts too much to hope. It's for those of us whose inner voice is unkind and who fall asleep at night while a litany of failures runs through our minds. It's for those who have called out for God and found Him to be silent.
The Bible is full of assurances of God's love for His people. But I know that believing those verses in theory and feeling that they are true for you personally are two different things. What I am hoping to do through this little book is close that gap. 
So I am inviting you on a journey of the soul. I know that might feel scary or like a waste of time. But what if there is more than what you are currently experiencing? What if it is possible to come to a place of inner peace where you know who you are, and know beyond a doubt that you are seen, known, respected, and loved? 
Going to the lowly place means bowing your head for God's blessing and outpouring of grace. It's accepting that you are loved beyond measure and longed for by your Savior. It's seeing yourself through His eyes.
It's my prayer that the message of Rest will be a balm to the heart during a time when we all desperately need hope, peace, and a good dose of kindness. Order Rest: 31 Days of Peace for yourself and anyone with a hurting heart. 
May His perfect love drive your fear away,
Lisa
[1] Henry Drummond, Pax Vobiscum (Palala Press, 2015), 30.

When I was twenty-three years old, I walked out of Mass almost in tears. "I can't stay here," I thought to myself. "They don't know Jesus; they don't know scripture; heck, they don't even seem to know each other." I was raised Catholic, but it wasn't until I darkened the door of a non-denominational church that I met Jesus Christ in a way that transformed the very core of my being. For years, I held bitterness toward Catholicism, feeling like I had never learned the true gospel in Mass on Sundays. My experience in the Church, though better than many, was all I had to work with, and it wasn't enough. 
Determined to leave, I started researching the Catholic faith so that I would know what I was leaving. Big mistake. Over the course of six months, I discovered the hidden treasures of Catholicism. Realizing how wrong I was, I returned wholeheartedly and gave my life to Jesus and His Church. It was the best decision of my life.
At least half of my story is THE story of most millenials who were raised Catholic. Millions grew up in Catholic families and attended Mass, but their lackluster experience with what they perceived as a stale religion sent them running for the door. We were in search of greener pastures. The difference between my story and theirs is that most of them did not discover the true beauty of Catholicism. They left and have not come back. 
It is these men and women, my generation, that inspired me to write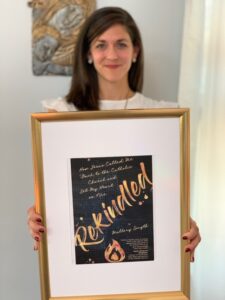 Rekindled: How Jesus Christ Brought Me Back to the Catholic Church and Set My Heart on Fire, which will be released on November 6. For at least the past three generations, our everyday experience of Catholicism has done a disservice to the faith that we profess and the people who are supposed to profess it. I have watched my generation bleed out of the Church, and since I was one of them, I don't blame them. There is a significant gap between the beauty that awaits us in the teachings of Catholicism and the daily experience of the average Catholic. This book is all that I want to say to the countless men and women who have sat with me and told me their reasons for leaving, and for all the parents that I know who mourn that their children no longer practice the faith. It's the expression of my heart as it aches for so many of my friends to return to the Church and discover the joy and meaning for which they search, and it starts with the message, "I get it." 
In each chapter, I share honestly about my own experience growing up Catholic, which I believe is a common experience. We have all experienced bad Masses, grappled with the scandals of our clergy, and struggled with insufficient knowledge about what we believe in the first place. My hope is to provide an account that validates the pain and doubt that so many Catholics and former Catholics feel.
Here in these pages, I cover nine reasons that many Catholics have left, explaining what I experienced, what I learned, and why I stayed. This is not a book that is meant to bash the Church, although I do not sugarcoat any of the problems plaguing Catholicism today. I talk about them openly, hopefully even with a sense of humor, as I believe that every Western Catholic alive will be able to relate to the issues in at least one, if not all, of the chapters. After discussing these issues, I share what it was that led me to fall in love with being Catholic. 
Hidden under the mess of it all, there are infinite reasons to embrace Jesus Christ, His Church, and His mission. I seek to bring them to light. I believe all of the reasons eventually boil down to this: Christianity is the Truth but Catholicism is the fullness of the Truth. The Church offers us a way of life that, if followed, will lead us to a life of freedom that lands us at the feet of our King, Jesus. All the history, the traditions, the prayers, and, most importantly, the sacraments lead us to the God for whom we were made. There is more here than meets the eye. While there is much work to be done, it would be a shame for those of us who were raised in the Church to miss the jewel that has been right in front of us all along.
Have you ever grappled with your experience as a Catholic? Do you have a loved one, a son, or a daughter who has left this Church that you love so much? Are you struggling with Catholicism yourself or have one foot out the door? I invite you to walk with me through each chapter. Let my story illuminate your own, strengthen your faith, and lead you even more deeply into the heart of Jesus and His broken and beautiful Church. 
Preorder Rekindled for yourself or for a loved one, and rediscover this ancient, surprising beauty with me on November 6.

Are you tired of your list of good intentions that never translate to action? How many times have you made a resolution (and really meant it) only to fail within a few short weeks?
We've all been there. It isn't that we aren't aware of the ways we need to improve…but actually making the changes can be overwhelming. In her book, Girl Wash Your Face, Rachel Hollis talks about this very issue. Sharing about how she has changed her own patterns and behaviors, she explains that she decided to establish a rule in her life that she would never break a promise to herself, no matter how small. And that changed everything. She writes:
If you choose today not to break another promise to yourself, you will force yourself to slow down. You cannot keep every commitment, promise, goal, and idea without intentionality. If you recognize that your words have power and that your commitments carry covenant weight, you won't agree to anything so easily…You'll slow down and think things through. You won't just talk about a goal; you'll plan for how you can meet it.[1]
But which promises are the truly important ones to make and keep? We don't have time to achieve every goal on our list. We have to say a lot of no's to say the best yes.
What I'd like to propose to you is that our most important goals are the ones that impact eternity. There are loads of worthy resolutions and self-improvements that no doubt make life more enjoyable. But if we don't make our primary focus our spiritual lives, then our success will be superficial and short-lived. I don't know about you, but one day when I am standing before God giving an account of the choices I've made, I do not want to have a bunch of frivolous, self-centered accomplishments to be all I've got to show Him. God doesn't care how much you weigh, how perfectly decorated and ordered your space is, and how far you got in your career. But He cares big time how you have loved—how you've loved the people He's put in your life and how you've loved Him.
God also cares about how you love yourself. There's a lot of talk about the importance of self-care, and I am all for it. But true self-care should be more than a bandaid; it should address how your soul is doing. Your heart matters to God. He doesn't just want you to believe the right things or behave in a certain way. As a truly good Father, He wants your heart to flourish.
God never intended for us to navigate the spiritual life in isolation. His plan for us has always involved community. We need sisters around us who are encouraging us and challenging us to value the right things, and we need to be fed truth to counter all the lies we're surrounded with.
So who is walking alongside you?
Who is challenging you to grow closer to Christ?
What is helping you know Him better right now, and what is helping you to understand His will for your life?
How is your heart?
Changes in these areas don't just happen automatically. We have to make it a priority to cultivate these kinds of friendship, and then get our eyes off our phones and into God's truth. It means we make a promise to ourselves to put the most important things, the eternal things, on our calendars, and then we follow through. We'll plan for how we're going to get to our goal. The perfect time for this is now.
If you don't know where to start, I encourage you to pick up a copy of Opening Your Heart, our most popular Bible study. It meets you right where you are and offers game-changing, practical Biblical teaching. You'll learn new ways to love yourself and others well. Commit to going through it with a girlfriend to increase the likelihood that your best intentions will turn into real change. Contact our WWP support team to find a parish near you that is offering the study and get to know even more women like you who are ready to kick-start real change in their lives.
I'm challenging you to move from good intentions to real change. Do you struggle to get your priorities in order? Do you have questions about your faith that haven't been answered? Do you sense that there is something more to the Christian life than what you have been experiencing? Then come on over and dive in to Opening Your Heart. It's tailor made for you—a safe place to come with your questions, confusion, hopes, and dreams. I promise you, you won't be the same person by the time you finish the study, in all the best of ways.
Order your copy of Opening Your Heart today!
With you on the journey,
Lisa
[1] Rachel Hollis, Girl Wash Your Face (Nashville, TN: Nelson Books, 2018), 17.
This post originally appeared on our blog on August 19, 2018.

Every summer when I was a kid, we'd all pile into the back of the station wagon to make the two-day, endless, no end in sight, drive to Hilton Head Island. There were no seat belts. There was no technology. There were no snacks (because back in the day there was no kitchen in the car, and we were sturdy enough to survive without a snack every 20 minutes). We learned how to entertain ourselves by leafing through books, looking out of car windows, and searching for the alphabet on highway signs and license plates. And every 10 minutes or so we inevitably asked, "Are we almost there yet?"
Life sort of feels like that right about now. I swear, the 5k Fun Run I didn't want to sign up for, and planned to walk anyway, has turned into a marathon that I am forced to sprint and comes with no finish line. Good grief, is it just me, or did the race officially just get too long? The uncertainty of the future mixed with the fear of "what is to come" is brewing stronger than that third pot of coffee we shouldn't have made. And yet, here we all are, reaching for another cup, wondering why we can't shake the queasiness and involuntary twitching.
Has your zeal to emerge stronger finally given way to weariness?
Has your hope been buried somewhere beneath that pile of canceled plans?
Has that positive outlook you put on like a champ taken its last breath, along with your dream of everything going back to normal this fall?
And I am not sure what it was that finally broke me. Maybe the hurricane and loss of power and water? Or was it the announcement that my kids would be attending school for only two days a week? Or perhaps the laptop that decided right now would be the perfect time to have a nervous breakdown? (Or was that me?) Whatever it was, something was added to the pile of disappointment and fear, and I finally threw my hands up to the Lord and demanded to know, "Are we almost there yet?"
We all have this desire to know the future, don't we? That urge to pick up the veil and take a peek. And at the root of this desire? Fear. We want to know how much longer, when will this end, and what will become of us, as if we would be satisfied with the answer; as if knowing the date were the true remedy for the peace our hearts lack. These are the weeds, sprouted from seeds of fear, that thrive and grow in our cluttered minds. If only we were as good at keeping our life-giving thoughts as alive as we were these! And yet, all hope is not lost. 
Two weeks ago I began leading a group of over 50 women in Marian Consecration; 33 days of seeking to know Jesus and offering Him our hearts, by way of Mary. Our Lady was most obedient to the will of God without any certainty. She never asked, "How long, Lord?" She never demanded to see more than one step ahead. Mary is our perfect model for such a time as this, offering us three practical and prayerful ways to handle the fear of uncertainty and temper our need to know what comes next. 
1. Trust the Word of God
This young maiden at the Annunciation agrees to an unimaginable invitation, without certainty or details of the future. The ardent desire of Mary's heart to do the will of God trumped the desire for more information and put her fear to rest. How do we know she was afraid? Because the angel commanded her, "Do not be afraid." But it isn't enough for us to be told "do not be afraid," is it? In fact, for some of us today, being told to quit being so scared can feel insensitive and unhelpful. This is why what Father Peter Cameron observes about Mary's encounter with the Angel Gabriel at the Annunciation is so important: "Why were the angel's words to be trusted? Because when Gabriel said to Mary, 'Do not be afraid' (Luke 1:30), she stopped being afraid. The Word of God transfigured her. What the angel announced to her corresponded with the deepest longings of her humanity."[1]
We, too, can be transfigured by the Word of God. 
2. Resist the Urge to Go Back to Egypt
When the journey started to feel too long for the Israelites and complaining got the best of them, they looked back to what they had left behind. And I get it. When there's no end in sight, you forget that God has a plan and you just want to go back to how things used to be—even if they weren't that good. With each new obstacle, and report of another cancellation, it is tempting to respond with frustration, anger, and doubt. This is why I turn to Mary. From the moment she gave her fiat, it was one obstacle after the next. Leave your hometown, give birth in a stable, flee to Egypt...I mean, seriously! Had the Scriptures read that Mary jumped off that donkey and ran back home crying to her mother, we'd all be like, "I get you, girl." But she didn't. Because of her trust in God's Word, Mary's response was always one of heart-pondering.[2] She did not run backward, but remained in place, pondering God's will in that moment.
We, too, can be at peace in the moment by developing a posture of heart-pondering prayer.
3. Keep an Upward Perspective
Because of her pondering, Mary lived beyond the right here, right now. Her constant disposition was one of faith, and her heart was set firmly on the goal of life: Heaven. When fraught with fear, this is too easily forgotten. If our focus is more on the race than it is on the prize, we will drop dead from exhaustion. This race requires perseverance, not perseFEARance. We must put on our blinders, turn off the world, and keep looking upward.
We, too, being created for heaven, can live in a gesture of looking upward.
Are we almost there yet? That is not for us to know. But God gives us a Mother to wait with; a Mother who teaches us in this moment to trust the Word of God, keep a heart-pondering attitude, and to go beyond our present circumstances as we keep looking upward. 
When uncertainty disturbs your peace, remember these three things. When fear grips your heart, behold your Mother.
[1] Father Peter John Cameron, O.P.,  Mysteries Of The Virgin Mary: Living Our Lady's Graces, (Servant Books, ST. Anthony Messenger Press, 2010), p. 43
[2]  Luke 2:19, 51

"I trust in you, O LORD…My times are in your hands." (Psalm 31:14-15)
These words were written by King David at a time when he was experiencing deep distress. Earlier in Psalm 31 he wrote, "My strength fails because of my misery" (Psalm 31:10). His circumstances were not what he wanted. He was bone-weary. Yet somehow, he was able to trust God.
I wonder how you are doing right now, if you are weary, too. What circumstances are you facing that makes it difficult for you to trust that "your times" are in God's capable hands? Are you struggling to be content with what "your times" presently hold?
Is it possible to be content when your finances go up and down? Does a family crisis negate the possibility of contentment? Can you be content when you aren't achieving very much? Does contentment depend on whether you are married or single? Can you be content regardless of how schools will operate this fall? Does your contentment depend on whether or not the pandemic continues to rage? Is it tied to your health, wealth, comfort, or safety?
Trust in God and contentment go hand in hand. When I think it's all up to me, I feel I need to hustle. I'm discontent if any of my circumstances are not what I had been working for. But when I recognize my littleness and see that I am not the ruler of the universe and am actually in the palm of God's hand, I can rest. When I rest, I realize that God has not failed me. I am still standing. He is sustaining me. I am able to pray, "You are my rock and my fortress…into your hand I commit my spirit; you have redeemed me, O Lord, faithful God" (Psalm 31:3, 5).
Because God is who He says He is, and does what He says He'll do, "even now, there is hope" (Ezra 10:2). This is a truth you can count on—there is always reason to hope. God was not surprised this morning by what popped up in your news feed. He isn't wringing His hands as He looks down from heaven at the chaos below. God isn't playing around with your life, dispassionately seeing what you are made of. He is utterly in control, completely interested in the details of your life, and timelessly working in the future so that even the worst things today can be redeemed down the road. 
God loves you with a level of purity that you can't even fathom. In a time when you might wonder which news, data, and people you can trust, God remains "the same, yesterday, today and forever" (Hebrews 13:8). He is unchanging, unfailing, and unflinching in His commitment to father you faithfully.
Allow yourself to become little—like a child. Let the pressure roll off. Picture yourself in the palm of God's hands, because that is where you are. Remember what those hands have done. They are the same hands that stretched out the heavens (Isaiah 45:12), told the sea it could go no further (Job 38:11), and healed with a touch (Matthew 8:3).
Psalm 31:15 says, "My times are in your hand." This doesn't mean that God doesn't hold the whole world in His hands. But it's undoubtedly sweeter when you see that this is a truth meant for you, personally. Jesus loves you and gave Himself up for you, and your life is in the hands of the one whose hands were nailed to the cross for your sake. May you embrace this truth and allow this reality to be the source of your hope, strength, and security. 
"Behold, I have engraved you on the palms of my hands." (Isaiah 49:16)

Every now and then, we have an exchange with a friend that never quite leaves us. We can remember, even years later, exactly what was said, how we felt, and what was revealed during the conversation. I had one of those unforgettable conversations nine years ago. In the days after I became a missionary, I sat down to coffee with a dear friend. We caught each other up on the summer's events, and I casually made a joke about some of the quirks I had experienced during my five week training. Quick-witted and honest, she immediately responded, "It's good to see that you didn't lose your personality." Ouch. I smiled, made another joke, and told her that, despite popular opinion, my new found pursuit of holiness did not turn me into a robot or wipe away my personality. On the contrary, I felt more alive than maybe ever before. 
I never forgot that conversation because I was struck by how easily my friend stated a powerful but subtle lie that most of us believe deep in our hearts. We can't be fiercely holy and fully human at the same time. 
Have you ever made this assumption in your own life? Maybe you have sensed that God is calling you to a deeper commitment to Him, but you are afraid that if you go all in you will become the neighborhood weirdo. Or, maybe you are trying to become exactly who God wants you to be only to find that one human moment leaves you feeling dejected as your halo goes crooked and the mess behind your buttoned-up persona reveals itself. We tend to think holiness will make us bland or that our human moments are sinful simply because they are human. Scripture reveals to us a different story.
A few weeks ago, I read through the story of Joseph in the Old Testament as I prepared for our weekly Instagram Live discussion on our Bible study, Beholding His Glory. Reading this story with fresh eyes, I was impacted by the humanity of Joseph's holiness. Joseph was the favorite son of Jacob, a patriarch of Judaism. He had 11 brothers who often watched their father give Joseph special treatment. Eventually, their jealousy turned into scheming, and they sold Joseph into slavery. Joseph went through many trials, twists, and turns, but God's favor prevailed. He eventually found favor with the pharaoh who appointed him as second-in-command over all of Egypt. When a seven-year famine came upon the land, it was Joseph who led the Egyptians through it.  
During the second year of the famine, Jacob sent 10 of Joseph's brothers to Egypt to buy grain. Joseph immediately recognized them, but they didn't recognize him. On the third day of their visit, he heard his brother Rueben scolding the others for what they had done to Joseph. Unable to take it, Joseph had to walk away so that he could weep. The same thing happened when Joseph beheld his only blood brother, Benjamin, who made the trip. Again, overcome with emotion, he ran away to weep. Finally, no longer able to hide his identity, he melted into a mess.
Genesis 45:1-6 says, "Then Joseph could no longer control himself before all his attendants, and he cried out, 'Have everyone leave my presence!' So there was no one with Joseph when he made himself known to his brothers. And he wept so loudly that the Egyptians heard him, and Pharaoh's household heard about it."
Joseph revealed himself to his brothers and, in an act of pure heroism, forgave them for everything that they had done. He told them that what they used for evil, God used for good, and they should not be angry with themselves. 
Friends, most of us would finish reading this story with our mouths on the floor. What kind of man grants total and complete forgiveness to the family members that sold him into slavery? I have trouble forgiving the strangers who cut me off in traffic. This kind of forgiveness takes nothing short of a miracle of the heart, a level of sanctity that can only come from years of walking with God, trusting Him, and allowing His transformation. 
Can you imagine the emotion that must have run through Joseph when he saw his brothers all of those years later? All of the memories of his childhood, the days spent with his father, the mistreatment by his brothers, and the details of the journey they sent him on must have been too much to bear. He didn't stuff those incredibly human feelings away to play stoic saint or to pretend that everything was fine. He wept three times. The last time, he wept so loudly that the entire royal palace heard about it. It may have been embarrassing, but it wasn't sinful. Joseph's life is a challenge to all of us, and yet it also allows us to breathe a sigh of relief. Joseph did not have to deny his humanity to reach the heights of holiness and neither do you.
As we continue through the journey of this year, I wonder how you are treating yourself. Is God calling you to a deeper level of holiness to which you are afraid to say yes? Be not afraid. God will not wipe away your personality. He will wipe away your sin so that the very best of your personality can shine forth. 
Are you struggling to become holy in this time of uncertainty, or putting unnecessary pressure on yourself to become something more than what God is requiring? Are you face to face with your humanity as you figure out what the next few months will look like for you and those you love? Be patient with yourself. Remember that every saint who came before you was as human as you are. Remember that you have a Savior who was human in every way. Phillipians 4:15 tells us that Jesus himself was able to sympathize with our weakness. He was tempted in every way yet did not sin. With your eyes on Jesus, look to the example of Joseph and every saint who, in loving God, became more human and less sinful. St. Iraneaus said, "The glory of God is man fully alive." With this in mind, delight in your humanity as He continues to make you holy.